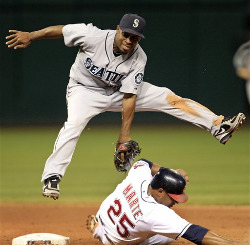 The
Braves
are trying to hold off the surging
Phillies
in the National League East, and now they're minus one Hall of Fame third baseman. You'd have to think their level of desperation is high right now.
Some are suggesting the
Mariners
could leverage that desperation to unload an ill-advised contract.
Chone Figgins
couldn't replace the things
Chipper Jones
did, but decent major-league help is tough to come by now that the non-waiver trade deadline has passed. Only players making more than their value can slip through, and Figgins, owed a minimum of $26 million and three more years on the contract he signed last winter, is highly unlikely to be snapped up.
The Mariners and Braves reportedly had discussions about Figgins at the deadline that weren't terribly serious, but Atlanta's situation has changed. And so has Seattle's since the Mariners signed Figgins thinking they were contenders. As the
Seattle Times
points out, the Mariners are paying $27 million of their $90 million payroll to two players: Figgins and
Ichiro Suzuki
. Thirty percent of your payroll for two leadoff hitters is absurd, and you know they're not trading Ichiro.
The Braves have other options. They can move
Martin Prado
to third and play
Omar Infante
every day. They can try to trade for Baltimore's
Ty Wigginton
, though Wigginton is a longer shot to clear waivers. But Figgins is ridiculously hot right now (batting .405/.436/.486 in August), and despite his contract, he could make the difference in whether the Braves make the playoffs by a game or miss by a game.
Are the Braves desperate enough to make this deal? Are the Mariners willing to pick up enough of Figgins' contract to make it happen? Hard to say, but you've got to think there's at least going to be a phone call between Frank Wren and Jack Zduriencik.
-- David Andriesen
For more baseball news, rumors and analysis, follow @cbssportsmlb on Twitter.