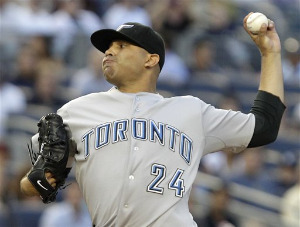 Ricky Romero
isn't even eligible for arbitration until 2012, but the
Blue Jays
aren't taking any chances with the promising left-hander, laying out some serious money to make sure they control his cost for the next five years.
Ken Rosenthal of FOX Sports reports via
Twitter
that Toronto has signed Romero to a five-year, $30.1 million extension, the largest guaranteed contract ever for a player with less than two years of major-league service. The deal buys out all his arbitration-eligible years and runs through 2015.
Romero, 25, the sixth overall pick in the 2005 draft out of Cal State Fullerton, has been terrific in his first two major-league seasons. He was a 13-game winner in 2009 and is 9-7 with a 3.53 ERA this season. He's averaging 7.8 strikeouts per nine innings.
Romero has a four-pitch repertoire with increasingly good command and is considered smart, composed and focused. He got hung up in the minors for longer than expected, leading some to wonder whether the Jays had overreached for him at No. 6 (especially since
Troy Tulowitzki
was taken seventh). But he has clearly figured it out, and projects as a potential No. 1 or 2 for years to come.
The big extension is a gamble for the Jays, a potential disaster if he gets hurt or doesn't live up to his early promise. But by overpaying for him right now, they could save a ton of money in the long run if he turns into a $12-15 million ace in his arbitration years.
-- David Andriesen
For more baseball news, rumors and analysis, follow @cbssportsmlb on Twitter.