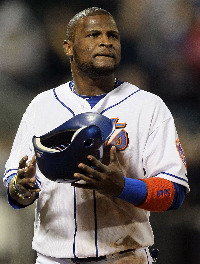 Luis Castillo
wants out of New York, and the feeling is mutual.
The
Mets
second baseman, left to wither on the bench as the team finally tired of his underperforming ways, made no bones about his desires in an interview with the
New York Post.
"I can't be here anymore," he said. "I know I'm not going to be here next year."
Well, that much is virtually certain, but it's unclear how that's going to happen. The Mets owe him $6 million for 2011 -- not a ton of money, but more than another team is going to take on in trade for an aging infielder with a .616 OPS who plays mediocre (at best) defense. The Mets will probably have to eat a good chunk of that money to ship him out.
On the other hand, the Mets' fallback for second base isn't exactly looking like a barn-burner. Rookie
Ruben Tejada
has been completely overmatched at the plate at the major-league level, batting .183. He came into Saturday 0-for-16 since being called up last week to be the regular starter.
"If they think that he's the best player, that's OK," Castillo said. "I just don't want to be a backup when I've been playing every day for my whole career."
Even if Tejada doesn't turn out to be ready, another season with Castillo looks extremely unlikely. The team and its fans have been unhappy with his performance and his effort level, and it looks like the former All-Star will have a new address in 2011.
-- David Andriesen
For more baseball news, rumors and analysis, follow @cbssportsmlb on Twitter.