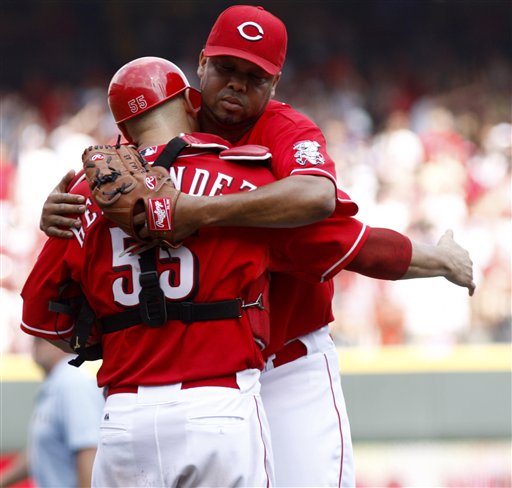 The
Reds
are in a virtual tie for first place in the National League Central thanks to Saturday's victory against Florida that saw closer
Francisco Cordero
record his 31st save. Cordero's third in the National League in the stat, behind San Diego's
Heath Bell
and San Francisco's
Brian Wilson
, but still dealt with boos throughout his appearance that saw him walk two batters, give up a run and rely on a double play to wrap up the victory.
This is where a former Cincinnati closer might give the fans the finger, Cordero isn't complaining about the boos. In fact, he says he understands them completely. Following Saturday's outing, Cordero told reporters,
including MLB.com's Mark Sheldon
, he's sympathetic to the boo birds:
"I have to stop walking people," Cordero said. "I've got to do that or it's going to be like that every time. I see how upset the fans are with me. I understand that. Every time I walk someone, that guy comes in to score. It's not like I'm giving up a lot of base hits. It's walks. I really don't know what to say about that. It's not my style. It's not me. I've never been like that my whole career. I have to keep working and try to be better every time out."

"I created that myself, walking people. I've got nobody to blame but myself. Putting me in that situation, putting the team in that situation and putting the fans in that situation, it's why they're upset with me right now. I've been walking too many guys. [The fans] have been great, unbelievable to the team. They're coming out on the road, coming out a lot to the stadium. They want to win. Putting the fans in that situation is not fair.

"In the end, we got to go home happy. I know they got to go home happy."
Cordero's been anything but a shut-down closer this season, despite earning $12 million. His 1.548 WHIP is his highest since 2001 and his 34 walks are more than he had all of last season. His 5.8 walks per nine innings is his most since 2001 and his 1.35 strikeout-to-walk ratio is his lowest since that same season, which was before he established himself as a closer.
So far, Reds manager Dusty Baker has stuck by his closer and shown no signs of replacing him. Last weekend, Cordero loaded the bases without giving up a hit in Chicago before being lifted for
Nick Masset
in a 4-3 Reds victory at Wrigley Field.
Masset would be next in line, but something drastic has to happen for Baker to lose faith in his high-priced closer. Masset, another big right-hander, had a rough start to the season, but since June 29, he has appeared in 22 games, allowing two earned runs (0.83 ERA) and limiting hitters to a .164/.256/.233 line.
That's not likely to be an issue, so it's good to see someone like Cordero understands why he's not the most popular man in the Queen City, but has responded like a real pro.
UPDATE:
Cordero picked up his 32nd save of the season in the Reds' 2-0 victory over the
Marlins
on Sunday, but again it wasn't without drama. He allowed a leadoff double to Mike Stanton and walked
Cody Ross
with two outs before striking out
Donnie Murphy
to end the game.
-- C. Trent Rosecrans
For more baseball news, rumors and analysis, follow @cbssportsmlb on Twitter.