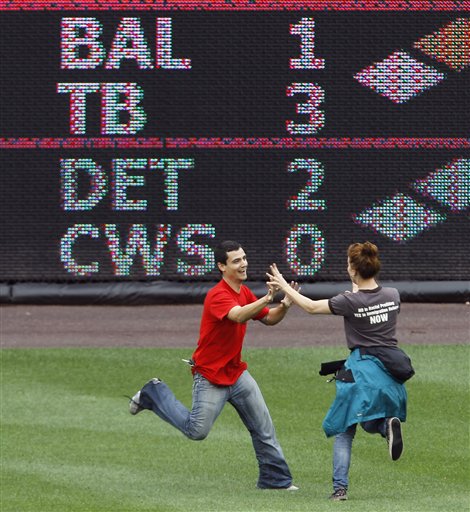 Several people ran onto the field in the bottom of the fifth inning of the
Nationals
-Diamondbacks game at Nationals Park to protest Arizona's immigration law and the 2011 All-Star Game behind held at Chase Field in Phoenix.
At least four people rushed the field and a banner was unfurled in center field saying "Bud Selig Move The All-Star Game / No SB 1070."
The protestors were detained by security and escorted off the field.
There were protests held at the park before the game, as well.
UPDATE:
Here's how the Associated Press
described the action
:
A man emerged from the left-field stands in the fifth inning and ran into short right field after Washington pitcher Stephen Strasburg grounded to short for the first out. As security guards were about to subdue the man, a woman ran onto the field from the right-field seats.
The two ran around the field, meeting in deep right-center, before they were caught by security. As they were being escorted from the field, a man and a woman holding a banner protesting the All-Star Game in Arizona ran into right field.
Before they could display the banner, a security guard ripped it from their hands, tackling one of them. As they were taken into custody, a bedsheet banner reading "Bud Selig Move All Star Game No SB 1070" was unfurled from the facade over the batter's eye in center field.
While the banner-toting protesters were taken off the field, security removed the sign in center field. The game was delayed about two minutes.
-- C. Trent Rosecrans
For more baseball news, rumors and analysis, follow @cbssportsmlb on Twitter.