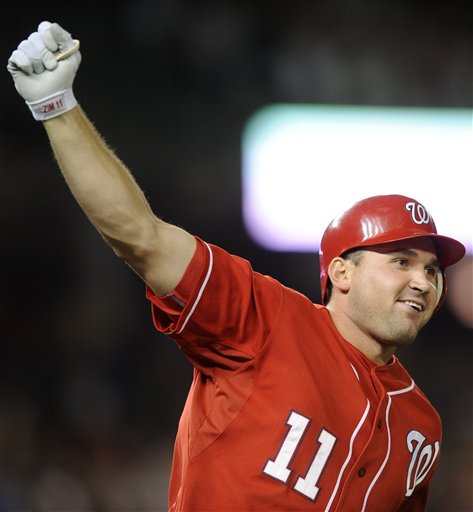 The only knock against first overall pick Bryce Harper was his attitude -- and it seems to have already rubbed his future teammates the wrong way.
Although the
Nationals
have been in this signing waiting game before --
Stephen Strasburg
went down to the last minute last year and Aaron Crow didn't sign at all the year before -- but this one is different, said the Nationals' best player.
Ryan Zimmerman
had
this rant to the Washington Post 's Adam Kilgore
without even using Harper's name.
"Stephen was on a very different level from this guy," Zimmerman said. "I mean, this guy has done well at a junior college. Obviously, he's very talented. But I think Stephen, there was a lot more to him. Obviously, it would be good for us to sign him. I think the people are very smart. They understand talent, recognize talent. I don't know what he's asking for or what the numbers are, but Stephen was a completely different story than anyone else. I hope he signs and we get him. He has a chance to be a very good player.

"Stephen, we knew as soon as we drafted him he was going to be ready to come here and pitch. Very rarely do you see 20 year-old kids come up. So he's three years away. It's always different with pitchers and position players as well."

"It's just the business," Zimmerman said. "It doesn't mean he's a bad kid. I've heard all the stuff about his this and that. I'm open to meeting him. You don't get that kind of hype if you're not legit or somewhat legit, at least. I mean, it'll be interesting to see what he's doing."
While
Strasburg is pulling a "do-as-he-says, not-as he does" criticizing Harper
, while he went to the last minute to sign his contract. Zimmerman, on the other hand, signed very soon after he was drafted fourth overall in the 2005 draft and was called up later that year.
At the time,
Zimmerman said
, "I didn't want to be one of those guys that sits out the whole summer. I don't know how I could deal without a summer of baseball."
It's unlikely Harper doesn't sign, but it's just as unlikely that it doesn't come down to the wire.
-- C. Trent Rosecrans
For more baseball news, rumors and analysis, follow @cbssportsmlb on Twitter.