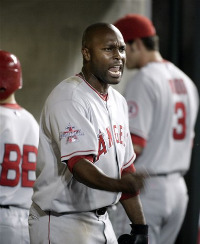 The
Orange County Register
points out that Wednesday is the one-year anniversary of a historic feat, and provides a reminder of how much things have changed for the
Angels
.
After a 5-4 victory over the
Indians
last August 18, all nine batters in the Angels lineup had a batting average of .300 or better (you can see the box score
here
). It was the first time a team had been in that situation since the 1934
Tigers
.
A year later, not one of those nine players is batting .300. Here's the lineup, with last year's August 18 average and their current average:
Chone Figgins
(now with Seattle) .308/.251
Bobby Abreu
.310/.266
Juan Rivera
.310/.257
Vladimir Guerrero
(now with Texas) .313/.297
Kendry Morales
.303/.290
Torii Hunter
(pictured) .307/.290
Maicer Izturis
.300/.249
Mike Napoli
.300/.254
Erick Aybar
.313/.271
Explains a lot about how the Angels were 5 1/5 games up in the American League West then and 8 1/2 back now.
-- David Andriesen
For more baseball news, rumors and analysis, follow @cbssportsmlb on Twitter.