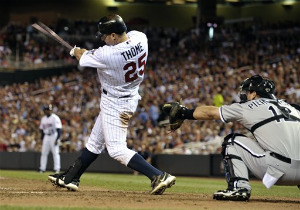 Jim Thome
's
walk-off homer
against his old team Tuesday night was the 12th game-ending blast of his career, tying a major-league record. And he's in some pretty nice company, Hall of Fame members all: Jimmie Foxx, Mickey Mantle, Stan Musial, Frank Robinson and Babe Ruth.
But the
Twins
slugger isn't just collecting records by virtue of longevity. Less than two weeks shy of his 40th birthday, Thome is having a serious season. How serious? Check out the best OPS (on-base plus slugging) seasons ever for a player 39 or older:
1. Barry Bonds 1.422
2. Ted Williams 1.096
3. Bonds 1.045
4. Hank Aaron 1.045
5. Williams 1.042
6. Bonds .999
7. Thome .985
8. Babe Ruth .985
9. Stan Musial .924
10. Moises Alou .923
If you throw out the three seasons by Bonds, assuming that he had some artificial help in his later years, that leaves your top three as Ted, Hank and Thome.
That's
how good Thome has been this year. A heck of a signing by the Twins for $1.5 million.
-- David Andriesen
For more baseball news, rumors and analysis, follow @cbssportsmlb on Twitter.