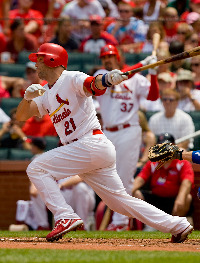 Johnny Cueto
lost one start after being suspended for kicking people during a fight. Meanwhile, one of the people he kicked,
Jason LaRue
, has lost the rest of his season.
It was a footnote to
the story
of the
Cardinals
acquiring
Pedro Feliz
on Thursday, but the roster spot for him was opened when LaRue was transferred to the 60-day disabled list. The catcher suffered a concussion last week during a brawl with the
Reds
, and the Cardinals have said they're shutting him down for the season because he has shown no sign of recovery.
"We have spoken with a lot of different medical experts on this," general manager John Mozeliak told MLB.com. "It is obviously one that is not as clear-cut as you might have with an elbow or knee injury. There are a lot of unknowns.
"Given the way he is feeling and reacting, we really felt it was in his best interest not to have him feel like there is pressure to come back."
LaRue was a backup, and wasn't going to be the difference in whether the Cardinals make the playoffs. But a concussion is serious stuff. And what if it had been
Albert Pujols
or
Adam Wainwright
who had been lost for the season?
One thing is for sure: It's a good thing for Cueto that he doesn't currently project to start in the September 3-5 series in St. Louis. Dusty Baker would be crazy to send him to the plate, because there's a good chance he'd wind up with a fastball in his ear -- there's a system of baseball justice that doesn't come from the commissioner's office.
-- David Andriesen
For more baseball news, rumors and analysis, follow @cbssportsmlb on Twitter.