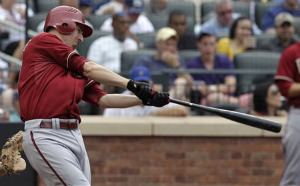 The
Diamondbacks
are talking extension with first baseman
Adam LaRoche
, even as LaRoche's future in town is in doubt.
LaRoche cleared waivers this week, meaning he can now be dealt to any team. There certainly could be a demand for his services, as he is n the midst of his traditional second-half surge, hitting .272/.340/.493 with 21 home runs. LaRoche has an affordable $7.5 million team option attached, which might boost his trade value as the acquiring team would be able to retain his services if they so chose.
But that doesn't mean LaRoche wants out of town. Despite Arizona entering a retooling phase by shipping off
Dan Haren
and
Edwin Jackson
, the lefty sees potential for 'Zona to contend as soon as 2011.
"Regardless of what our record is, I don't think we are that many pieces away from having a completely different situation this year," LaRoche
told
FOX Sports Arizona. "I mean completely different. I have been on teams that are lost and moving backwards. I don't see that happening here. I think they had a chance to do that at the trade deadline, but didn't. We chose to keep our lineup intact. I think we're not far away."
Both LaRoche and interim GM Jerry DiPoto characterized talks as "a general kicking of the tires," as DiPoto phrased it, with any completion occurring in the offseason. Arizona has a good amount of money coming off the books after the season, with 2010's payroll of $75 million dropping to a projected $20 million before arbitration which will essentially double the payroll given the volume of young players on the Diamondbacks.
Arizona could elect to simply exercise the team option, but that would put the club at risk of losing the 31-year-old after 2011 to free agency. Clearly, Arizona isn't entirely comfortable with that scenario, but it is unknown if DiPoto will be able to finalize talks before the search for a new general manager is found. While DiPoto will be considered for the permanent opening, there still remains an interview process to go through.
-- Evan Brunell
For more baseball news, rumors and analysis, follow @cbssportsmlb on Twitter.