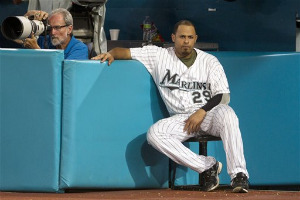 Marlins
catcher
Ronny Paulino
has become
the second major-leaguer this season to get a 50-game ban for using a performance-enhancing drug. Paulino says he took a diet drug and didn't know it contained a banned substance.
Drug suspensions are fairly common in the minor leagues, but are now rare in the majors.
Reds
pitcher
Edinson Volquez
got a 50-game ban in April, though he was already out with an injury.
Paulino has started 84 games behind the plate for the Marlins, batting .259. With
John Baker
out with an elbow injury and not expected back for another couple of weeks, rookies
Brett Hayes
and Brad Davis will be the Marlins' catchers for the time being.
Paulino issued a statement through the team:
"To control my weight this season, I used a dietary pill. Regretfully, I recently learned that the dietary pill contained a substance banned under Major League Baseball's drug policy. I am ashamed and saddened for disappointing and distracting my family, my teammates, the entire Florida Marlins' organization, and baseball fans. My heartfelt and most sincere apology.
"I accept full responsibility and all consequences for this mistake and therefore, choose not to challenge my suspension. I was irresponsible for failing to take all precautionary steps in confirming the approval of the dietary pill. Without a doubt, I have learned from my mistake."
Because there are only 42 games left in the Marlins' season, the suspension will continue into the first part of next year.
-- David Andriesen
For more baseball news, rumors and analysis, follow @cbssportsmlb on Twitter.