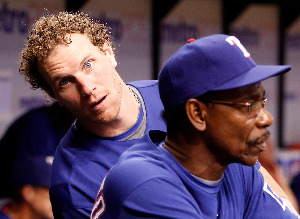 In 54 years, no team has ever claimed all four major awards -- MVP, Rookie of the Year, Cy Young and Manager of the Year -- in the same year.
As Tom Singer of MLB.com
points out,
this could be the year that changes, as the
Rangers
have solid candidates in every category in the American League.
Manager Ron Washington, who in spring training looked like a longshot to keep his job after admitting he tested positive for cocaine last year, seems a favorite after leading the Rangers through an impressive campaign.
League-leading hitter
Josh Hamilton
is playing about as well as a guy can play lately, making clutch plays at the plate and in the field.
Miguel Cabrera
definitely has MVP numbers, but the
Tigers
have become irrelevant down the stretch and the award traditionally favors players for playoff teams.
An early-season injury has kept
Cliff Lee
from piling up big win and strikeout totals, but he's been incredibly impressive in both Seattle and Texas. He has seven complete games, a 3.44 ERA and leads the league in WHIP. The
Rays
'
David Price
might have a better case, but Lee is getting a lot of attention.
The AL rookie award seems pretty wide open, but Neftali Perez has a good shot. He has 27 saves, and as Singer points out, the rest of the rookies in the league have 20 combined.
The
Cardinals
have a longer shot of pulling off the sweep in the National League, though there are big obstacles for manager Tony La Russa (Bobby Cox will be a sentimental and dserving favorite) and rookie
Jaime Garcia
(a raft of rookie stars led by
Jason Heyward
).
Adam Wainwright
might end up ahead of
Ubaldo Jimenez
for Cy Young, and
Albert Pujols
is poised to win his fourth MVP.
All four awards are voted on by members of the Baseball Writers' Association of America. The last team to come close to the awards sweep was the 116-win
Mariners
of 2001.
Ichiro Suzuki
won the rookie and MVP awards, and Lou Piniella was Manager of the Year.
-- David Andriesen
For more baseball news, rumors and analysis, follow @cbssportsmlb on Twitter.