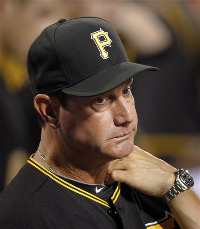 It was only a matter of time, but the
Pirates
officially
extended their record
run of futility Friday night, losing their 82nd game of the season. They have now eliminated the possibility of running off 82 straight wins to avoid a losing season, and will finish on the wrong side of .500 for the 18th consecutive year.
One interesting thing is that while the Pirates have been losers all that time, they've rarely been really awful. They're an aggregate 1,206-1,600, a winning percentage of .429, and they've only lost 100 games once (though they'll surely do it again this year under the watchful eye of manager John Russell, pictured).
Some tidbits on the streak, courtesy of the
Pittsburgh Post-Gazette:
* The previous record for consecutive losing seasons by a North American major professional sports team was 16 by the
Phillies
(1933-48). The NFL record is 14 (Buccaneers, 1983-96), the NBA record 15 (Kings, 1983-98) and the NHL record 15 (Canucks, 1976-91).
* This is the fastest the Pirates have made it to 82 losses, a week faster than the 2001 team.
* Pittsburgh has actually spent 82 days in first place during the streak.
* In the same span, the Steelers and Penguins have played 34 seasons combined, and reached the playoffs 24 times. The Steelers have been in three Super Bowls, winning two, and the Pens have split in a pair of Stanley Cup appearances.
-- David Andriesen
For more baseball news, rumors and analysis, follow @cbssportsmlb on Twitter.