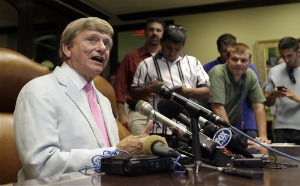 Roger Clemens' lawyer has revealed that Clemens rejected a plea deal offered by the government.
The deal was offered several months ago in exchange for Clemens pleading guilty, a scenario both Clemens and lawyer Rusty Harden declined.
"I will tell you the recommendation they made was a very good one if he was guilty," Hardin told ESPN. "And if he was guilty we would have jumped on it. Everybody has all this great solicitous advice, all the media ... Nobody is answering the question: What if he didn't do it, what should he have done? And everybody wants him to confess."
It's certainly obvious that everyone believes Clemens guilty, largely based on the evidence and Clemens' poor showing before Congress at a hearing. If indeed guilty, Clemens has brought all of this on himself, and it could have been avoided by simply admitting guilt. It has been proven that those who come clean fare far better in public perception. Even Hardin himself warned Clemens how important it was for him to admit wrongdoing if he did indeed take steroids or human growth hormone.
"He's been told from the beginning if he did it he ought to do exactly what Andy Pettitte did," Hardin noted. "It doesn't take a rocket scientist to know that. And everybody assumes it is his arrogance and his ego that kept him from doing it."
Pettitte, like Clemens, was fingered in the Mitchell Report. Two days later, the Yankees left-hander, one of Clemens' best friends at the time, verified trainer Brian McNamee's claims that Pettitte used HGH. He held a press conference in which he took questions and said he used the performance-enhancing drugs to help heal an injury. Due to Pettitte's own admission and contention that Clemens had told him of the Rocket's own use of performance-enhancing drugs, the two no longer talk.
However, Pettitte has escaped rather unscathed by the whole saga, as his use of HGH will warrant but a footnote in his career biography, and he remains a fan favorite in New York. Clemens, meanwhile, is ostracized.
"He wasn't the greatest witness before Congress, I understand that," Hardin added. "But I got to tell you, we've sat on him probably for 100 of our hours over the last two-and-a-half years, always with the same thing: 'If you did it, the best thing to do is just admit it and move on and we'll deal with it.' He has never, ever wavered."
Clemens will get his day in court soon, and perhaps the lingering question of one of the best pitchers of all time's drug usage will finally be settled.
-- Evan Brunell
For more baseball news, rumors and analysis, follow @cbssportsmlb on Twitter.