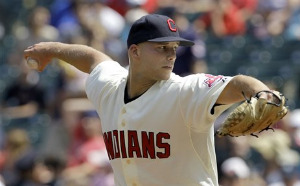 The Cleveland
Indians
might have a different look in their rotation come September.
Not only may the team head to a six-man rotation, but they may bounce Justin Masteron to the bullpen,
according
to the
Akron Beacon Journal
.
"Justin Masterson will probably meet his innings requirements by the second week of September," manager Manny Acta said. "We want to limit him to about 180 innings, but he doesn't have to get every single one of them. If we bring up a starter, Masterson could finish his innings out of the bullpen."
Masterson's future is probably out of the bullpen regardless as his first full season as starter has not gone well. He has a 5.33 ERA in 25 starts, struggling against left-handers (who have an .850 OPS against). As he showed with the
Red Sox
, he could be a real late-inning weapon out of the bullpen, facing just right-handers. Perhaps this is the beginning of that conversion in Cleveland.
To replace Masterson, the Indians will likely tab Carlos Carrasco, who was part of the package for
Cliff Lee
in 2009's trade to Philadelphia. The 23-year-old has a 3.77 ERA in 24 starts, punching out 127 in 143 innings and limiting his walks to 45. He could eventually emerge as a mid-rotation starter for the Indians.
As for who else could jump into the six-man rotation, Sheldon Ocker of the
Beacon Journal
says that while David Huff is an option, the team clearly isn't enamored of the left-hander. Some of it may be the
Twitter incident
Huff found himself in, some may be Huff's production. In 15 early starts, the 25-year-old went 2-11 with a 6.21 ERA. While he isn't wild, he makes it far too easy for the hitters to jump on his offerings and can't seem to translate his minor-league results to the bigs.
If not Huff, the team could turn to
Anthony Reyes
, currently winding his way back from Tommy John surgery. Reyes, acquired from the
Cardinals
in midseason 2008, impressed down the stretch for Cleveland before getting 2009 off to a horrible start and going under the knife. Now 28, Reyes still has the chance to become a solid starter but is likely to have the bullpen in his future.
Reyes recently had a setback in mechanics in his return, as Acta
noted
to the
Beacon Journal
.
"He's been going through some mechanical adjustments," Acta said after Reyes coughed up seven runs in one inning in Triple-A on August 11. He walked six and gave up just one hit. "This is nothing physical,'' the manager added, saying that Reyes would take the mound again August 30 most likely. Barring any setbacks, he's expected to join the big-league staff.
-- Evan Brunell
For more baseball news, rumors and analysis, follow @cbssportsmlb on Twitter or subscribe to the RSS feed .