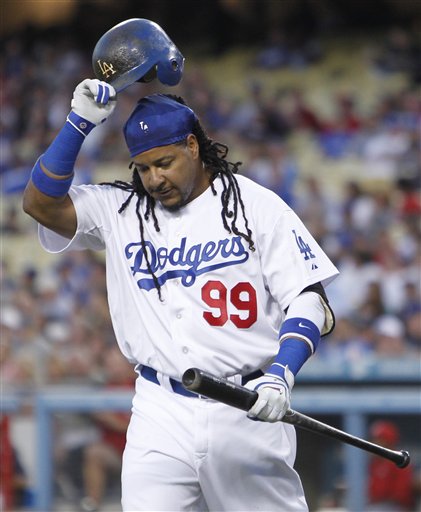 Manny Ramirez
hasn't been put through waivers yet, according to multiple reports, but he will be put on waivers soon.
After that happens, there are two interesting questions:
1. Will he be claimed?
2. If not, would the
Dodgers
release him?
Ramirez, despite all his well-chronicled deficiencies and idiosyncrasies, can still flat-out hit. At 38, he's hitting .312/.404/.508 with eight homers and 39 RBI in 223 plate appearances.
While at first glance, acquiring someone making $20 million this season would seem cost-prohibitive. However, his base salary is only $5 million and any team that acquired him would owe roughly $1.1 million for the rest of the season and then part of the remaining three deferred payments for the remainder of his salary. That could be roughly $3.3 million, give or take.
So who would be interested? He'd be a perfect fit back in the American League for any team searching for some extra pop down the stretch -- think the
Rays
,
White Sox
or maybe even the
Rangers
or
Yankees
.
However, he's available to National League teams first -- could a team like the
Braves
or
Padres
take a chance on him and make him a high-priced pinch hitter?
A National League executive tells CBSSports.com that he expects Ramirez to be claimed by an American League team. Another big league source expects Ramirez to clear waivers, but then have a trade work out, noting the $4 million pricetag for one month of a designated hitter as being just too much to handle. If Ramirez is claimed as a blocking move, the Dodgers would likely let the claiming team just have him -- but that comes with one big if.
Ramirez has a full no-trade clause. If he's claimed, he can still block a move. If clears waivers, would the Dodgers just release him? He's no longer the draw he once was and the Dodgers aren't doing anything but playing out the string. It's certainly possible, but it's unlikely he'd be out of a job too long.
-- C. Trent Rosecrans
For more baseball news, rumors and analysis, follow @cbssportsmlb on Twitter or subscribe to the RSS feed .