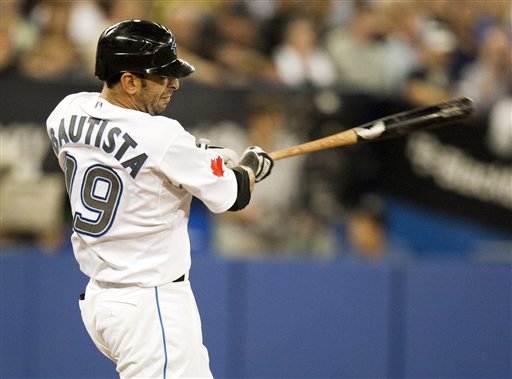 It was a big day for Toronto's
Jose Bautista
against the haters.
First it was talk of steroids and then it was 92 mph fastball at his head. The
Blue Jays
slugger came out swinging on both accords.
As for steroids, the whispers were vocalized a little louder before Monday's game, as
Toronto Star
hockey columnist
Damien Cox compared Bautista to Roger Clemens and Brady Anderson
.
Cox's column was headlined, "Gotta At Least Ask the Question."
Bautista's response?
"Well ask it," Bautista said,
according to the National Post
. "Don't write about it."
He's got a point, why didn't Cox, who presumably has access to the Blue Jays' clubhouse, go ahead and ask it to Bautista before writing?
"Nobody's said anything to me and I don't see why they should," Bautista
told the Globe and Mail
. "Baseball has a strict policy against those performance-enhancing whatever you want to call them."
After he hit his 39th and 40th home runs against the
Yankees
, ESPN personality Bill Simmons also accused Bautista of using steroids
on Twitter
: "Jose Bautista just hit his 40th HR. Previous high: 16. It's Aug. 23rd. But it's not the Steroids Era anymore. I'm just confused."
While it's tough to defend yourself against words, fastballs are easier to swat away.
Bautista hit a two-run home run off of Yankees starter
Ivan Nova
. After Bautista deposited a ball foul into the upper deck on the direst pitch he saw from Nova in the sixth, Nova threw an 0-1 fastball near Bautista's head and the Blue Jay hit the deck before getting up and moving toward the mound as both dugouts emptied.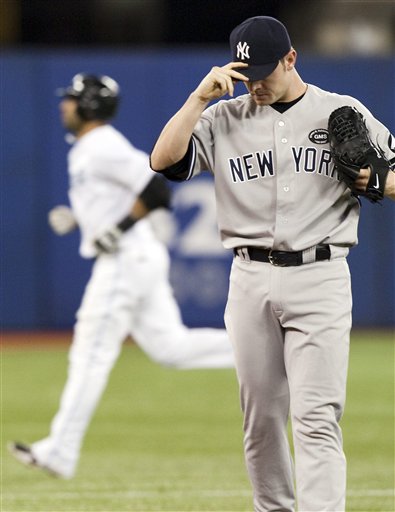 From the Globe and Mail
:
"I was just trying to see what kind of reaction I was going to get from him," Bautista said. "And I was surprised to see he was pretty defiant, he was walking up towards me, flashing his hands up and started yelling.

"That's when I felt the pitch was intentional."

Nova denied it was anything of the sort.

"It wasn't on purpose," Nova said. "I just throw the ball. I've got to pitch. I pitch inside, I can get a lot of outs. The pitch wasn't on purpose."
Bautista flied out in that at-bat.
In the eighth, Bautista came up against
David Robertson
and turned on a fastball for his 40th homer of the season to give the Blue Jays a 3-2 lead.
Bautista flipped his bat, watched it, took a couple of steps and a glance toward the mound before breaking into a slow trot around the bases. As he approached the plate he started pumping his fists and didn't stop until he was headed toward the dugout and was high-fiving teammates. I'm no
Tater Trot Tracker
, so I could be off on this timing, but I got 28.6 seconds on Bautista's trot -- which wouldn't be one of the top 10 slowest trots of the season, but it would be in the top 10 of the non-David Ortiz division) -- but it certainly wasn't quick.
"Given what transpired earlier, I enjoyed it pretty good,"
he told MLB.com's Jordan Bastian
.
-- C. Trent Rosecrans
For more baseball news, rumors and analysis, follow @cbssportsmlb on Twitter or subscribe to the RSS feed .