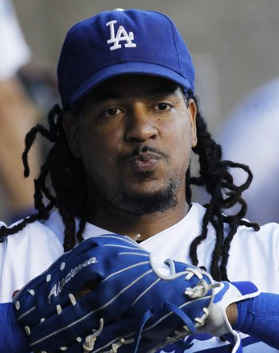 The
White Sox
intend to claim
Manny Ramirez
off trade waivers,
reports
Ken Rosenthal of FOX Sports.
At five games behind the
Twins
and sliding out of the division race, GM Kenny Williams is certainly doing what he can to shore the team up for the stretch drive even if that means taking on someone who hasn't proven he can hit or even take the field.
At 67-57, there is no team ahead of the ChiSox in the American League that would be interested in Ramirez, and it's not likely any other NL team would have interest as well, given Ramirez's complete lack of defensive ability.
If claimed, the
Dodgers
could simply opt to let Ramirez go as
Scott Podsednik
gives the Dodgers three viable outfielders as they pretend to still be in the postseason hunt. Ramirez is due roughly $4 million the rest of the way, but only $1 million payable in 2010. The remainder is deferred, which could be both a good and bad thing.
The good: The claiming team would only be on the hook for one million immediately, which would allow a team to easily fit Ramirez into the team budget. The $3 million would be factored in future budgets, which is easier to do when you plan for that additional money. The bad is that Ramirez would suck up money in the future despite no tie to the team. Ask the
Mets
how much they enjoy having to pay Bobby Bonilla $1.1 million from 2011 to 2035 after he last played for the Mets in 1999.
Money aside, Ramirez is a risk. He's been on the disabled list three times this season with leg injuries, and has exactly two good months to his name: April and June, with OPS' over 1.000 -- and April was only half the month. In May, he posted a .643 OPS and has received only a handful of at-bats in July and August. He returned from the DL on Saturday and made three trips to the plate. He did not play Sunday and Monday. Clearly, the Dodgers are tired of Ramirez and he of the Dodgers.
Which brings us to the next risk: Manny himself. As long as Manny is hitting, teams can deal with the headaches that he brings -- sometimes. The
Red Sox
had enough of Ramirez to the point no team claimed him on irrevocable waivers after 2003, the season before he won MVP honors in the World Series. He was then unceremoniously traded midway through 2008 after Ramirez' antics finally wore thin. L.A. welcomed Manny with open arms and he became a hero -- until his act too wore thin in Los Angeles.
Now, he might be on the way to Chicago, which definitely needs Manny's bat in the middle of the order. The White Sox also have the luxury of hiding Ramirez' defense at DH. His no-trade clause would certainly need to be waived, and it's anyone's guess if he would do so. If we're talking a rational human being, he would likely embrace a chance to go to a team with postseason hopes, but who really knows? It's been made clear by his past that he prefers being comfortable and happy in his own mind -- as is his right -- and he appears to be just that in L.A.
Bet on a deal getting done -- the Dodgers would love to save some money and would dump Ramirez for nothing if it came to that point, which it probably will.
If Ramirez does go to the White Sox, he would join other Dodger rejects in
Juan Pierre
and
Andruw Jones
. There's a lesson here somewhere.
-- Evan Brunell
For more baseball news, rumors and analysis, follow @cbssportsmlb on Twitter or subscribe to the RSS feed .