Bud Selig is hardly a popular man among baseball fans, but he had plenty of his own fans on hand Tuesday for the unveiling of his statue in front of Miller Park.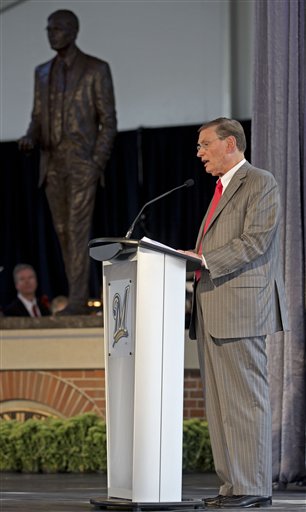 The
Milwaukee Journal Sentinel has a list
of some of the attendees for the ceremony:
Sen. Herb Kohl
Political columnist George Will
Wisconsin AD Barry Alvarez
Joe and Frank Torre
Hall of Famers Al Kaline, Frank Robinson, Ernie Banks
Representatives of too many clubs to name, including Yankees president Randy Levine and wife Mindy, a Milwaukee native
Rachel Robinson, widow of Jackie Robinson
Dick Ebersol, President of NBC Sports and Entertainment
Former Packers president Bob Harlan and GM Ron Wolf
Dozens of former and current Brewers employees
Many former and current Brewers, including Robin Yount and Hank Aaron, who also have statues outside of Miller Park as well as Gorman Thomas, Sal Bando, Cecil Cooper, Ben Oglivie, Audrey Kuenn, widow of former manager Harvey Kuenn, Don Money, Don August, Bill Schroeder, Jerry Augustine, Ken Sanders, Larry Hisle, Teddy Higuera, Dale Sveum, Ted Simmons, Pete Vuckovich, Rollie Fingers, Trevor Hoffman, Craig Counsell, Jim Gantner and Paul Molitor.
Brewers owner Mark Attanasio and wife Debbie, who donated the statue.
All of Selig's family, including wife Sue and daughters Wendy and Sari

There were at least two more current Brewers at the event than current Yankees attended George Steinbrenner's funeral (although it was at the ballpark on a game day, so it was a little easier to make.)
In addition to the roll call, Selig was lavished with praise. Here's a sampling:
"Bud Selig is my hero." -- Hank Aaron (from MLB.com )
"I honestly believe the first statue that should have gone up outside this stadium is Bud Selig's. I'm not sure we have any of this without him." -- Robin Yount (from MLB.com )
"This man right here was stronger than any other thing involved in staying here. If not for this man, I might have left." -- Yount, who stayed with the Brewers as a free agent in 1990 instead of going to the Angels. (from the Journal Sentinel )
Selig is often a punchline -- and with some very valid reasons -- but he's also the biggest reason baseball not only returned to Milwaukee, but also that it remained in Wisconsin.
-- C. Trent Rosecrans
For more baseball news, rumors and analysis, follow @cbssportsmlb on Twitter or subscribe to the RSS feed .