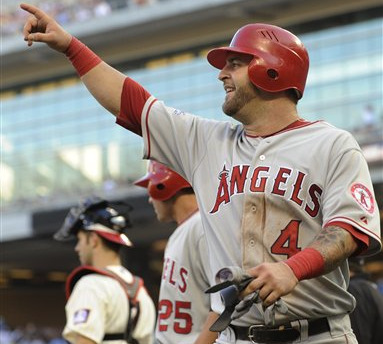 Poor
Mike Napoli
.
Napoli is one of the better hitters in the game, working on a .251/.320/.483 mark, bashing his 21st home run on Wednesday. Going 2 for 4 with six RBI, Napoli clearly is one of the
Angels
' better hitters, as he has been the last few years with a career OPS of .835.
However, the catcher can't get no respect. He's been playing behind
Jeff Mathis
for years. While Mathis is a strong defensive catcher, he can't do much with the stick. That's why, when
Kendry Morales
went down with a freak injury earlier in the year, it was thought Napoli might finally get his chance at first.
While he's received significant time at first, he hasn't exactly been the full-time starter, and prior to Wednesday's outburst, manager Mike Scioscia revealed that Napoli would split time at first with
Juan Rivera
,
reports the Los Angeles Times
.
Why? Because Rivera has been a more consistent hitter lately, Scioscia contends.
Here is the month-by-month totals for both hitters, Napoli first. This is through games of Tuesday, so Napoli's outburst on Wednesday hasn't made it, which would completely change the complexion of his August totals:
April: .167/.300/.214 in 50 PA
May: .322/.385/.713 in 96 PA
June: .228/.295/.426 in 112 PA
July: .250/.287/.463 in 87 PA
August: .224/.304/.367 in 56 PA
No, not exactly consistent, but he shows that despite a lack of contact he still has a strong eye and power, something lacking in the Angels these days.
And Rivera:
April: .247/.299/.420 in 87 PA
May: .209/.292/.390 in 89 PA
June: .263/.317/.461 in 82 PA
July: .319/.338/.449 in 71 PA
August: .256/.304/.326 in 46 PA
"Consistent" isn't what comes to mind when looking at Rivera's numbers. "Bad," maybe. "Lacking upside, like Napoli," perhaps.
In addition, Rivera has exactly three games of experience at first, one coming in 2008. Napoli has proven so far to be an average fielder, and Rivera may be much the same, but it's not as if Rivera is a gifted defensive outfielder who can be expected to make the transition seamlessly.
However, given Rivera is due $5.25 million in 2011, he'll get the playing time. Napoli has two more years of arbitration ahead of him, but here's hoping Los Angeles cuts the cord and sends him somewhere where he plays. Napoli's stick is extremely valuable behind the dish, but if he sticks to just first and DH, can still be a valuable player to a team.
It's too bad the Angels can't seem to realize that.
-- Evan Brunell

For more baseball news, rumors and analysis, follow @cbssportsmlb on Twitter or subscribe to the RSS feed .