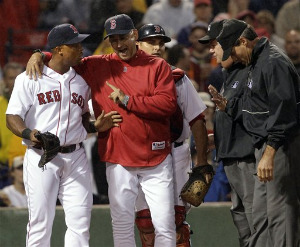 The
Red Sox
were fuming after Wednesday night's game, angry about losing their best player for most of a big game
due to a mistake
by a fill-in umpire.
After being called out on strikes in the second inning, Beltre told home plate umpire Dan Bellino he thought the final pitch was low. Bellino said it was a strike, and Beltre walked away. Arguing balls and strikes is a no-no, but respectfully asking about the location of a pitch is usually OK.
At the end of the inning, as Beltre went out to man third base, he exchanged some smack talk in Spanish with
Mariners
pitcher
Felix Hernandez
. The former teammates had "a little bet," as Beltre put it -- Hernandez said he was going to strike Beltre out three times, and Beltre said he was going to homer.
Well, Bellino, a 32-year-old Triple-A ump who is a vacation fill-in, thought Beltre was jawing at him over the strike call. He tossed Beltre, then manager Terry Francona, who came out to argue.
"A young umpire got in the midst of something he didn't know," Francona told reporters after the game. "That shouldn't have happened. It's a shame. Beltre was just having fun with Felix. He wasn't even talking to [Bellino]. That was unfortunate."
Boston lost 4-2, leaving Red Sox fans envisioning the three-run homer Beltre surely would have hit if he hadn't been tossed.
"It's frustrating to have a rookie umpire doing something like that, especially with how important this game is for us,'' Beltre said. "I'm not even facing him. I wasn't talking to him. I was talking Spanish and he's behind my back. So how can he take the initiative to take me out of the game in the second inning?''
-- David Andriesen


For more baseball news, rumors and analysis, follow @cbssportsmlb on Twitter or subscribe to the RSS feed .