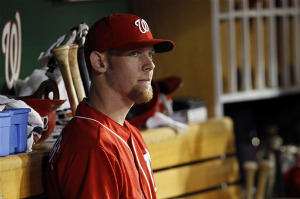 Strasmas is cancelled for the rest of the year -- and probably much longer.
The
Nationals
say rookie sensation
Stephen Strasburg
has major damage to the ulnar collateral ligament in his pitching elbow, an injury that will probably require "Tommy John" ligament replacement surgery. They will get another opinion before proceeding with surgery, but it's doubtful he can avoid it.
Tommy John recovery varies, but averages 12-18 months. That could mean we've seen the last of Strasburg on a big-league mound until 2012. But the procedure is hardly a death sentence for a pitcher's career. Players can and do come back, sometimes even better. A list of just some of the pitchers who have come back, courtesy of Larry Stone of the
Seattle Times:
Chris Carpenter, A.J. Burnett, Ryan Dempster, Tim Hudson, Francisco Liriano,
Joakim Soria, Rafael Soriano, Arthur Rhodes, C.J. Wilson, Brian Wilson, Carl Pavano, Billy Wagner ... and Tommy John.
The Nationals made the announcement in a conference call with reporters Friday morning.
General manager Mike Rizzo
told reporters
Strasburg "was developed and cared for the correct way. We're good with that. Frustrated, yes. Second-guessing ourselves, no."
Strasburg has had two MRI exams in the past week. The first, on Saturday, provided the diagnosis of a strained flexor tendon in his forearm. But there were enough questions left that the Nationals wanted a second test, including the insertion of contrasting dye into the arm, which is what happened Thursday.
The 22-year-old finishes his rookie season with just 68 innings pitched, a 5-3 record in 12 starts and a 2.91 ERA. The top overall pick in the 2009 draft captured the attention of the sports world with his debut, in which he struck out 14. Every start brough big crowds and high expectations. Strasburg ended up with 92 strikeouts and 17 walks in 68 innings.
He was on the disabled list previously this season with shoulder inflammation. The first question the Nationals and their staff have to consider is what kind of pitcher Strasburg will be when he returns. The second is whether his delivery is going to cause repeated arm injuries, and what they can do about it. If they tweak his motion, he could lose effectiveness. If they don't, he could become Mark Prior.
--
David Andriesen

For more baseball news, rumors and analysis, follow @cbssportsmlb on Twitter or subscribe to the RSS feed .