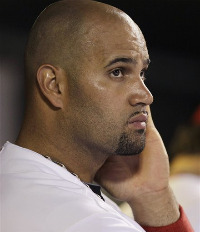 Years ago, desperate for an item to fill a baseball notebook, I threw in some quotes about players' thoughts on the upcoming presidential election. A large majority of ballplayers are Republicans, because many of them are one-issue voters (they have lots of money and wish to keep as much of it as possible).
I came to regret writing that, because I got so much response from people who were really depressed by it. "I really like rooting for these guys, but now that I know they think (whatever), it makes it hard. It's ruined my enjoyment of those players. I wish I'd never read that."
People don't want to mix their sports with their politics. They are two deeply divisive issues that just don't mix. Which is why it's a terrible idea for
Cardinals
star
Albert Pujols
and manager Tony La Russa to appear at Fox News talk show host Glenn Beck's
highly controversial
rally Saturday in Washington.
The rally might or might not purposely be planned for the anniversary of Martin Luther King Jr.'s famous "I have a dream" speech (Beck says it's a coincidence), but it's taking place at the same location. The "Restore Honor Rally" is being touted as a non-political event to "celebrate the First Amendment" and honor troops, but the speakers are ultraconservative lightning rods like Beck and Sarah Palin, and the Tea Party is busing people there.
"I made it clear when we were approached: I said, 'If it's political, I wouldn't even approach Albert with it.' I don't want to be there if it's political," La Russa told the
St. Louis Post-Dispatch.
Yo, Tony -- it's political, and if that's not obvious to you, you're not paying close enough attention. And if you're not paying close enough attention, you shouldn't be associating your name with it.
La Russa's already well-known as kind of a weirdo, but it's Pujols who has the most to lose here. Obviously he's his own man and has the right to have and express whatever political and personal opinions he wants. But people in this country are rabid about politics these days and don't want to mix it with their sports fandom (for proof, you need only to look at the
comments section
of the
Post-Dispatch
story).
It wouldn't matter whether he were appearing at the "Restore Honor Rally" or an equally hot-button liberal event. The point is that Pujols is going to risk alienating half his fan base, and it's a bad idea.
--
David Andriesen

For more baseball news, rumors and analysis, follow @cbssportsmlb on Twitter or subscribe to the RSS feed .