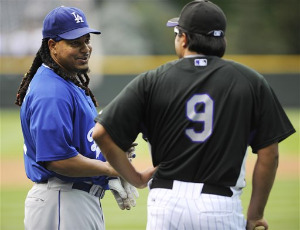 Dodgers
outfielder
Manny Ramirez
was out of the lineup for the third consecutive game Saturday, fueling plenty of speculation about what's going on behind the scenes.
The most likely scenario would seem to be that the Dodgers are working on a trade with the
White Sox
, who reportedly won a claim on him when he was placed on waivers. The teams have until Tuesday to work something out, and the Dodgers have the option of either dumping him and his contract on the White Sox or deciding they'll keep him -- after all, they entered the day just 4 1/2 games out in the wild-card race (though there are four teams ahead of them).
If they're working on terms of a trade, they wouldn't want to risk weakening their position by having Ramirez go out and get hurt, always a danger for the oft-injured slugger. They should probably just wrap him in bubble wrap and tape him to the trainer's table until a deal gets done.
Another, more intriguing, possibility is that the Dodgers are keeping Ramirez on the bench as a way of exercising leverage against him. Ramirez must waive his no-trade clause for the team to move him, and there have been whispers he's asking for either cash or a contract extension in exchange for agreeing.
Holding him out of action could be the Dodgers' way of sending a message: "We have power too. If you won't cooperate, we'll let you rot on the bench the rest of the year and damage your free-agent appeal."
UPDATE:
Dodgers manager Joe Torre met with reporters before the game, and denied that Ramirez not starting had anything to do with trade scenarios, and that he was not told by management not to play Ramirez. He said
Scott Podsednik
's "energy" and the fact that Coors Field has a large outfield played into his decision.
--
David Andriesen

For more baseball news, rumors and analysis, follow @cbssportsmlb on Twitter or subscribe to the RSS feed .