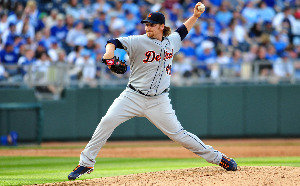 Phil Coke
has been everything the
Tigers
could have hoped for after being acquired from the
Yankees
in the
Curtis Granderson
blockbuster.
He's been, in manager Jim Leyland's words, "a legitimate top-tier left-handed major-league relief pitcher right now,"
according to the Detroit News
. With a 2.50 ERA in 54 innings, he's certainly been just that with only one home run allowed, 20 walks and 45 whiffs. He's also been a consummate teammate and one willing to spend time with fans.
And perhaps in 2011, he'll be a starter.
"We talked about that the other day," Leyland said of the possibility of converting Coke back to a starter, which he was in the minor leagues. There was talk about Coke moving to the rotation after being acquired, but that never came to fruition.
"I don't know the answer. I wish I did."
Coke last started in 2008 for Double-A when he logged 20 starts and three relief appearances, posting a 2.51 ERA in 118 1/3 innings. Coke began the conversion to relief upon promotion to Triple-A with an eye towards contributing to the Yankees' bullpen down the stretch.
Coke throws a fastball, slider, curveball and change up primarily, with a mid-90s fastball that looks slower than it actually is, which has caused him to be able to sneak up on hitters. That repertoire would enable Coke to start, although Leyland is unsure if the pitches will retain effectiveness if they start.
Converting relievers into starters -- especially at Coke's "advanced" age of 28 -- isn't common practice, but has been pulled off with success in recent years. Braden Looper converted from a World Series-winning closer to a solid starter for three years.
C.J. Wilson
is the latest success story, morphing into a starter worthy of Cy Young Award consideration.
It's not just about the pitches holding up in a conversion, however. It's about health.
"If you think in your heart that you're risking health if you start him, then you should leave him where he's at -- because to have him four or five times a week is better than not having him at all," Leyland said.
Essentially, Leyland has no idea whether Coke should be converted to a starter at all. Hopefully he figures it out by spring training.
--
Evan Brunell

For more baseball news, rumors and analysis, follow @cbssportsmlb on Twitter or subscribe to the RSS feed .