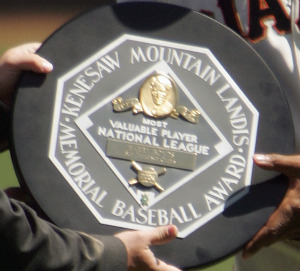 There are plenty of players in the American League who are deserving of a MVP, but only one can win and there's no shortage of top candidates this season to take home the hardware.
So who's most likely to nab the MVP? Candidates include someone who would be a Triple Crown-lock if not for career seasons by two others, a second baseman establishing himself as the best in the game and someone hitting .408 since the beginning of June.
Metrics below include batting average, on-base percentage, slugging percentage and standard counting statistics of runs, doubles, homers and RBI. Included are also two defensive measures -- Ultimate Zone Range prorated over 150 games and Defensive Runs Saved, which is not prorated. Together, both metrics give great insight into a player's defense. Wins Above Replacement is the final statistic, combining offense and defense to come up with a number that shows how many wins above a replacement player the player provides. MVPs generally end up around 10 by the end of the season.

Adrian Beltre
Boston Red Sox
.323/.362/.551, 68 R, 38 2B, 23 HR, 88 RBI, 13.6 UZR/150, 15 DRS, 5.7 WAR
Beltre has been everything the Red Sox wanted and more. If
Kevin Youkilis
was healthy, he may be on this list instead of Beltre -- but he's not. Besides, Beltre plays the more demanding defensive position than Youk and other than some hiccups in the early part of the season, has been a vacuum. He's slowly becoming a cult hero in town due to his on-one-knee home runs and curious aversion to having his head touched. If Boston storms back to somehow nab a postseason spot (hint: it won't), Beltre would likely win the MVP.

Miguel Cabrera
Detroit Tigers
.342/.437/.647, 94 R, 41 2B, 33 HR, 107 RBI, -7.5 UZR/150, -7 DRS, 6.0 WAR
Cabrera is doing it all this year: he's second in batting average, runs scored, home runs, doubles and leads the league in RBI. Just... wow. Not only is he having a Triple Crown-worthy season, he's also right there in non-Triple Crown stats like runs and doubles. His blemish is defense, where he clearly struggles which knocks his value down. If the Tigers made the playoffs, there wouldn't be much doubt about Cabrera's victory in the race. As is, however, he'll face stiff competition.

Robinson Cano
New York Yankees
.325/.388/.563, 92 R, 36 2B, 26 HR, 90 RBI, 3.6 UZR/150, 12 DRS, 6.3 WAR
Cano has emerged to put together what is to date the 33rd best OPS by a second baseman in baseball's history -- with Rogers Hornsby responsible for the first five and seven of the first eight. So OK, Cano is no Hornsby but looking back at just the last 25 years, Cano's mark would rank sixth on the list. Either way you slice it, this kind of offense from a second baseman is not common. Cano doesn't have much plate discipline but that's largely irrelevant when you're hitting .325 and racking up extra-base hits. In addition, his fielding has taken another step forward. Will it be enough to finish in front of Cabrera? Given
Derek Jeter
,
Alex Rodriguez
and
Mark Teixeira
have all had off-seasons, it may be enough as Cano has largely carried the pinstriped offense.

Josh Hamilton
Texas Rangers
.359/.411./637, 92 R, 39 2B, 31 HR, 95 RBI, 6.5 UZR/150, 5 DRS, 7.5 WAR
Since June 1, Hamilton has hit for a ridiculous .408/.459/.722 line and has combined that with strong defense to pace the AL in WAR -- no easy feat. He's certainly got to be considered the prohibitive favorite for the MVP, as the Rangers are 8 1/2 games ahead in first, headed to their first postseason berth since 1999. While Hamilton won't get the Triple Crown, a sizzling finish could vault him ahead of Cabrera in home runs and RBI -- leaving his only roadblock to the coveted distinction
Jose Bautista
's 42 dingers.

Evan Longoria
Tampa Bay Rays

.297/.372/.514, 83 R, 42 2B, 19 HR, 88 RBI, 11.6 UZR/150, 13 DRS, 5.8 WAR
The AL East boasts three candidates, which just goes to show you how competitive the division is with three playoff-caliber teams, with Longoria a big part of one of them in the Rays. He's among the game's premier defenders and while you'd like to see more home runs out of a MVP candidate, he's been Tampa's most consistent and elite offensive performer. However, his numbers just don't stack up to anyone else on the list except Beltre.
--
Evan Brunell

For more baseball news, rumors and analysis, follow @cbssportsmlb on Twitter or subscribe to the RSS feed .