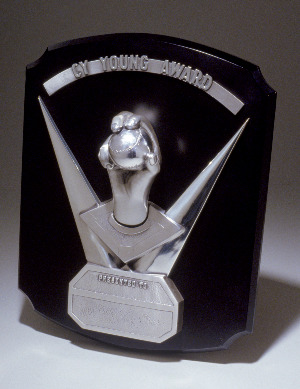 Today we continue our look at the leaders for baseball's big awards as we head into the last month of the season.
In what has been dubbed "The Year of the Pitcher," the Cy Young Awards are going to be tough calls, and in the National League the top six in ERA are separated by just 0.09 points from
Tim Hudson
(2.24) to
Jaime Garcia
(2.33).
In addition to the traditional stats, Evan loves him some xFIP. The basic idea of xFIP is -- besides being fun to say aloud -- Fielding Independent Pitching (FIP) that's normalizes home run rants for ballparks. Basically, it's all about strikeouts and walks. I'm not as big of a fan of it, but since it was included with the
American League folks
, I'll list it here for consistency's sake.
(Why don't I like it as much? Because it's too dependent on strikeouts, devaluing pitchers who get other kinds of outs. Funny, I don't care how you get outs, just so you get 'em. I understand if you're looking for a free agent to sign, it's a better predictor of where to spend your money and future performance, but when you're talking about evaluating a performance that has already happened, I don't care about style points.)
While the W-L stat is, in most opinions rightfully losing its place among the most important stats, another maligned statistic is the save.
Heath Bell
and
Billy Wagner
are having good seasons as closers, but it takes a special season for a reliever to have a chance. And this is a special season -- for starters. Nice seasons for Bell and Wagner, but they won't be in the discussion this year.
So here's those in the discussion (in alphabetical order):

Chris Carpenter
St. Louis Cardinals
14-5, 197 1/3 IP , 147 K, 54 BB, 2.92 ERA, 3.85 xFIP
Last year's runner-up is having another good season. His ERA is up and he already has one more loss than he did last season, but he's not exactly been a slouch. Last year Carpenter and
Adam Wainwright
split the vote, that shouldn't happen this year.

Jaime Garcia
St. Louis Cardinals
12-6, 146 2/3 IP, 118 K, 58 BB, 2.33 ERA, 3.75 xFIP
That said, Garcia is the third Cardinal ace this year. The left-hander should be front-runner for the Rookie of the Year Award, but his 2.33 ERA puts him in consideration for the Cy Young, too.

Roy Halladay
Philadelphia Phillies
16-10, 214 IP, 190 K, 26 BB, 2.27 ERA, 2.91 xFIP
Wait, the American League's best pitcher goes to the National League and dominates? Yeah, not that much of a shocker there. He hasn't exactly turned into the 30-game winner that some predicted, but he's on pace to become just the third pitcher in the live-ball era to lead his league in strikeouts, while having the fewest walks per nine innings in that same season. The last to do so was Robin Roberts in 1954.

Tim Hudson
Atlanta Braves
15-5, 184 2/3 IP, 109 K, 58 BB, 2.24 ERA, 3.86 xFIP
Like Garcia, Hudson underwent Tommy John surgery in 2008 and has certainly rewarded the Braves for the the three-year, $28 million extension given to him this past offseason.

Ubaldo Jimenez
Colorado Rockies
17-6, 184 1/3 IP, 170 K, 72 BB, 2.69 ERA, 3.74 xFIP
It looked like Jimenez would run away with the award earlier this season, but he's had a rough June and July (5.16 ERA). It seems crazy talk to think of a pitcher winning a Cy Young pitching half his games in Coors Field. At Coors, he's 8-1 with a 3.16 ERA. On the road, his win total has been hampered by his team's inability to hit on the road. He's 9-5 with a 2.30 ERA not he road, where opponents are hitting just .180/.279/.264.

Josh Johnson
Florida Marlins
11-5, 177 2/3 IP, 174 K, 45 BB, 2.28 ERA, 3.23 xFIP
Johnson's allowed just seven home runs this season and is striking out nearly four batters for every batter faced. Take out his bad outing in Cincinnati last month and his ERA would be at 2.02.

Mat Latos
San Diego Padres
13-5, 155 2/3 IP, 160 K, 43 BB, 2.25 ERA, 3.36 xFIP
The Padres are in first place because of their pitching -- and Latos has been their best pitcher. While he certainly benefits from pitching at Petco Park, batters are hitting just .188/.247/.310 against him on the road. His ERA is 2.08 at home and 2.36 on the road. After starting 1-3 with a 5.47 ERA in his first five starts of the season, Latos has gone 12-2 with a 1.60 ERA in his last 20.

Adam Wainwright
St. Louis Cardinals
17-9, 195 1/3 IP, 178 K, 50 BB, 2.30 ERA, 3.21 xFIP
Last season Wainwright had the most first-place votes for the Cy Young, but finished third in voting. He led the NL in wins last season with 19 and is doing the same this season with 17. Not only that, his ERA is a third-of-a-run lower than it was a year ago. A top-five finish guarantees the last two years of his contract (through 2013) and gives him not only a bonus for the award, but an extra million dollars in 2012.
--
C. Trent Rosecrans

For more baseball news, rumors and analysis, follow @cbssportsmlb on Twitter or subscribe to the RSS feed .