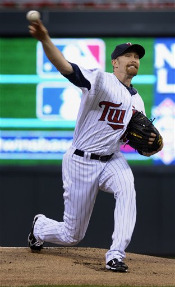 You could almost hear the entire state of Minnesota screaming at the TV set Thursday night: "How in the %#@* do you run out of pitchers in
September
?!?"
There were some extenuating circumstances, but it's still pretty much inexcusable that the
Twins
got caught short-handed in the bullpen two days after they had the ability to import as much pitching depth as they wanted thanks to roster expansion.
Starter
Scott Baker
left the game
against Detroit after two innings with elbow pain, and the game went extra innings. So atop the mound in the 11th inning appeared
Brian Duensing
-- who started and threw 103 pitches on Tuesday in the opener of this very series, and promptly gave up the go-ahead run Thursday. The Twins came back and tied it, and
Nick Blackburn
, the scheduled Friday starter, pitched the 13th -- and promptly gave up what would be the winning run.
The Twins used five relievers between Baker and Duensing, two of them for less than an inning.
Matt Capps
and newest Twin
Brian Fuentes
were unavailable with medical issues. So why in the world would a team in a pennant race not have half its Triple-A pitching staff dispatched to Minneapolis? I count seven pitchers on the
40-man
roster who aren't on the 25-man, and all were available to be called up.
Obviously it's not every day you get two innings from your starter and play into the 13th, but with so much at stake and so many people being paid to cover all the bases, the Twins should have had extra arms available. There are going to be some tough questions for Bill Smith and Ron Gardenhire after this one.
--
David Andriesen

For more baseball news, rumors and analysis, follow @cbssportsmlb on Twitter or subscribe to the RSS feed .