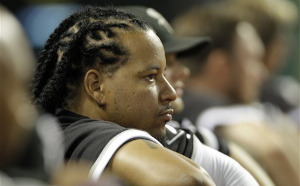 "I think everything was my fault."
Those tend to not be words you see coming out of
Manny Ramirez
's mouth, but
that
they
did
, according to ESPN Boston's Joe McDonald.
Ramirez had long given the
Red Sox
brass a hard time about Boston, making it clear he wanted out. He requested trades and sat out games he didn't feel like playing in -- and if he was inserted into the game, would clearly not compete. At one point, in 2003, the Red Sox placed him on irrevocable waivers, but no one claimed him and his monstrous salary. While Ramirez would go on to win the 2004 World Series MVP award, he still was a headache -- albeit a headache that delivered two World Series rings.
In 2008, Ramirez was involved in two altercations. In the first, he provoked
Kevin Youkilis
by telling him to stop complaining about the umpire's handling of the strike zone. Things came to blows in the dugout and the two had to be separated. Later in the season, Ramirez shoved traveling secretary Jack McCormick to the ground after McCormick told Ramirez he could not accommodate his ticket requests for a certain game.
Things continued to deteriorate, with Ramirez making up a fake knee injury. Suspicious, the Red Sox sent him for a MRI but he could not remember which knee hurt, so both knees underwent MRIs and came back clean. That was the final straw for Boston, who was able to trade him to the
Dodgers
in a three-way deal with the
Pirates
, netting
Jason Bay
. The club would go on to lose Game 7 of the 2008 ALCS against the
Rays
while Ramirez was on fire as a Dodger and led his new team to the playoffs where they fell in the NLDS.
Ramirez just engineered yet another disgraceful exit from town and is now a
White Sox
, being claimed off waivers by Chicago and playing his first game on Wednesday, roughly 48 hours after officially becoming a White Sox, which was head-scratching in its own right.
But at least some part of Ramirez has grown up, saying he apologized to Youkilis when the two ran into each other with Ramirez and the ChiSox in town for a three-game series Friday.
"When I saw Youkilis I said, 'Hey, what happened between you and me, I'm sorry," Ramirez said. "That's my fault."
--
Evan Brunell

For more baseball news, rumors and analysis, follow @cbssportsmlb on Twitter or subscribe to the RSS feed .