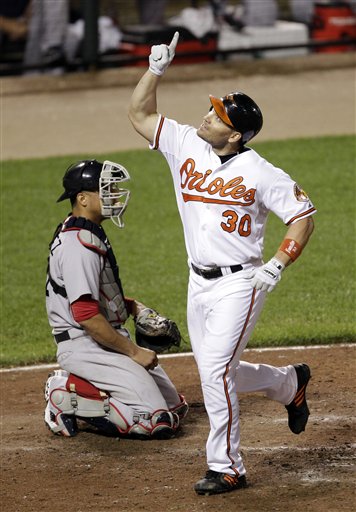 Thank you
Matt Garza
and
Luke Scott
for proving once again there's a quote from
Major League
for just about any baseball occasion -- "OK Harris, let's not start a holy war now."
So, the backstory to this is Garza
talked some trash
before his start on Friday and then went out and beat the O's.
Apparently Baltimore's Scott didn't like that.
"He said what he said, and he backed it up. He did a good job for his team, but don't let it bite you in the butt,"
Scott told the St. Petersburg Times
. "If you let your head get big in anything in life . . . it's Proverbs 3:34: 'God opposes the proud but give grace to the humble.' Your time is coming if you think that life is going to be like that. Your time is coming, and it's not going to be fun."
Garza thought going Biblical was a bit over the line.
From the
St. Petersburg Times ' Marc Topkin
:
"To each his own interpretation; that's what the Bible is. I'm a Christian too; a Catholic Christian. He's throwing something in that shouldn't even be allowed to be brought in,'' Garza said. "That's a topic where you don't ever bring that up. …

"My feeling is that God has a lot better things to worry about than if I'm going to throw a strike on a certain pitch. A lot of other things. I'd rather [Scott] not bring it up."

Garza also said Scott's words were a bit hypocritical considering his choreographed home run celebration, which includes a point to the sky and multiple high-fives.
"It's the same thing, when you're showing up the other guy," Garza said. "The game's gone that far to where it's acceptable. It's just what it is."
The cycle will only be complete only if Scott responds, "Up your butt, Jobu."
UPDATE:
Scott repsonded -- and maybe the he-said, she-said thing is all over. However, he didn't take my advice on what to say, instead here's what he
told the Baltimore Sun 's Dan Connolly
:
"He's just saying religion is not something you bring into baseball; it's all a matter of choice. That's not how I view it. Like I said, I consider it a blessing to be here and I am thankful for the opportunity to play. And that's just my personal beliefs."
As for Garza's allegations that Scott's celebration ritual is hypocritical of someone who is denouncing boastfulness in the name of God, Scott said:
"That's part of the game. You celebrate with your teammates. I play this game because I like to have fun. When I celebrate with my teammates, I am celebrating because I am enjoying the competition and am enjoying success. It's just as simple as that. I mean, I am pretty sure he gets pretty pumped up when he is in a big game and he does well and he gets some key outs when he needs them. I bet you he is in there and he is fired up. We all have different ways of expressing emotion in this game and that's what makes us all unique."
Lou Brown woulda had a better response, but I guess at least this one is closed for now.
--
C. Trent Rosecrans

For more baseball news, rumors and analysis, follow @cbssportsmlb on Twitter or subscribe to the RSS feed .