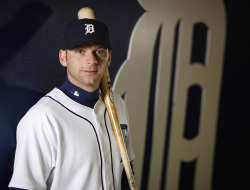 After
Tigers
call-up
Max St. Pierre
got his first hit in Saturday's game,
Johnny Damon
pulled the ol' fake toss into the stands trick.
I saw that last night and my first thought was, "nobody buys that anymore, do they?"
The cousin of St. Pierre's wife, Jerome Gabaldon, not only bought it, but it cost him $20.
"My cousin-in-law ran down and bought the ball from the guy for 20 bucks," St. Piere
told Steve Kornacki of MLive.com
. "He thought it was the ball from my first hit. And when I told him it wasn't, he said, 'how can you be sure which ball he threw?' So, I guess I've got both of them. I gave the ball from the hit to my wife. It's pretty special."
St. Pierre noted he didn't fall for the trick from Damon.
It was a special night for the 30-year old St. Pierre, who was called up for the first time after 14 years in the minor leagues. St. Pierre was called up Friday and in the starting lineup on Saturday.
St. Pierre received a standing ovation after his first hit from the fans in Kansas City. St. Pierre before being lifted for a pinch runner. His hit started the team's winning rally.
His teammates were just as excited as St. Pierre.
"It's genuine," the Tigers'
Will Rhymes
told the Detroit News
. "We've really been rooting for him to get a chance."
Rhymes was asked if it was just because he's a good guy?
"That, but also because we've seen guys who've played a long time and for whatever reason never got a chance," Rhymes said. "Guys who were good players but never saw what Max saw today [his name in the lineup].
"We couldn't be happier for him."

In a much different situation,
Reds
rookie
Yonder Alonso
also picked up his first hit of his career. Alonso was a first-round pick and signed a major-league contract after he was picked in 2008. He got had a ground-rule double Saturday as a pinch-hitter in St. Louis.
The
Cardinals
got the ball back, but Alonso
told MLB.com's Mark Sheldon
he wasn't going to take any chance in losing it.
"I told [Cardinals second baseman]
Aaron Miles
, 'Hey, somebody better get that thing. if not, I'll go get it myself.' But I saw them try and go get it," Alonso said.
Alonso gave the ball to his father, Luis, who was a professional baseball player in Cuba and defected to the United States when Alonso was 10.
"He's just done so much for me and has always been there for me," Alonso said. "I came to the States because of him. He left his dream of playing baseball for me. I'm playing for him now. It's pretty emotional."
--
C. Trent Rosecrans

For more baseball news, rumors and analysis, follow @cbssportsmlb on Twitter or subscribe to the RSS feed .