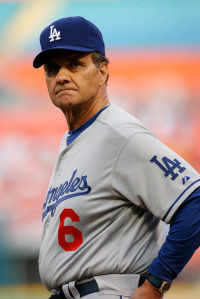 Remember when Joe Torre said he'd announce his future by Labor Day?
You know what today is? Labor Day.
So, Joe, what's up?
He's not saying.
As the
Dodgers
flounder, Torre's keeping quiet, offering just a "no comment."
"Because you guys know how to ask those questions and get me to say something," Torre told reporters, including the
Los Angeles Times ' Helene Elliott
.
Yeah, kinda because that's part of the job?
"I know it is. That's why I say I can't fight you guys. Or try to get around you," Torre said. "The only way I can get around is this. You guys are good at what you do. In due time I'll make an announcement."
According to Elliott, the reason Torre hasn't made an announcement is that he hasn't made a decision. Don Mattingly, the team's hitting coach, tells her Torre hasn't given him any hints.
"He seems relaxed as ever," Mattingly said. "I know he gets frustrated with the way we've played. But he's no different than he has been all the years I've been with him. He's solid all the time."
Said third base coach Larry Bowa, "If he doesn't come back, he's not retiring. I'm not saying he's going to manager, but he'll do something. He's got too much energy. He likes to do things."
Torre, 70, will be a free agent after the season and the Dodgers are going through the messy McCourt divorce, which seems like it'll handcuff the team during free agency season. It's far from a dream situation, but it seems the ball is in Torre's court and he doesn't seem too interested in making a move quite yet.
--
C. Trent Rosecrans

For more baseball news, rumors and analysis, follow @cbssportsmlb on Twitter or subscribe to the RSS feed .