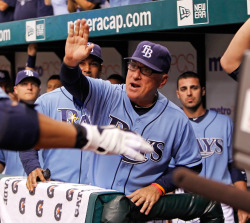 How about this for a record you didn't know existed?
Monday night the
Rays
tied a major-league record by using six pinch hitters in one inning. It was the ninth time that's happened -- and the seventh in September, when rosters expand.
Joe Maddon did it in the seventh inning of Monday's game in Boston because his team was being blown out and wanted to give his regulars some rest and get his bench players some at-bats.
"They all looked good up there. We like our depth, we like our bench," Maddon
told the St. Petersburg Times ' Marc Topkin
. "I want to keep them sharp, I've got to get them out there. Hopefully as we proceed and hopefully make the playoffs we're going to have to make a lot of tough decisions regarding who those 25 people are going to be, so these guys have got to play. If they're going to contribute the rest of this month they just can't sit on the bench."
How'd it work? Well enough for six pinch hitters to get to bat -- as well as three starters -- who accounted for two of the three outs. None of the starters got a hit, with
Carlos Pena
walking. The pinch hitters went 3 for 4 with two walks, scoring all three runs in the inning.
Here's how it went down:
The
Red Sox
started the inning with
Robert Coello
replacing starter
Jon Lester
.
Dan Johnson
, batting for
Ben Zobrist
, singled to center.
Kelly Shoppach
flied out to center.
Matt Joyce
, batting for
B.J. Upton
, singled to right.
Willy Aybar
, batting for
Jason Bartlett
, singled to center, loading the bases.
Brad Hawpe
, batting for
Carl Crawford
, walked, scoring a run.
Desmond Jennings
, batting for
Evan Longoria
, walked, scoring a run.
The Red Sox pulled Coello and put in
Dustin Richardson
.
Carlos Pena walked, scoring a run.
Out goes Richardson, in comes
Scott Atchison
.
Reid Brignac
, batting for Sean Rodrgiuez, pops out to first.
Rico Baldelli flied out to end the inning.
The last team to use six pinch hitters in an inning was the
Mariners
in 2007 and the last two do it in a non-September game was the Expos in May of 1970.
--
C. Trent Rosecrans

For more baseball news, rumors and analysis, follow @cbssportsmlb on Twitter or subscribe to the RSS feed .