The Executive of the Year award differs from the other postseason awards we've been previewing this week in a couple of ways.
First, it's a peer award, voted on not by writers but by a selection of baseball executives. Second, the vote doesn't take place until after the season, so what happens in the postseason figures into it. That makes it tougher to handicap this far in advance.
The award has been handed out by the Sporting News since 1936, and usually goes to a general manager -- often a GM who is succeeding despite limited resources.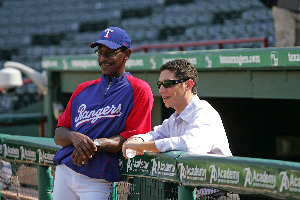 Jon Daniels
Rangers
It will be surprising if Daniels doesn't win this award after putting together the Rangers' best-ever team under unusually challenging circumstances. In the winter he offloaded
Kevin Millwood
and added
Vladimir Guerrero
, and in July he pulled a coup by outbidding the other contenders for
Cliff Lee
. All while the team was in bankruptcy, held in trust by Major League Baseball and limited financially. Daniels also made a tough decision to stick with manager Ron Washington after his admission of cocaine use last season.
Andrew Friedman
Rays
Friedman won the award after the 2008 season, and the Rays continue to keep themselves in the battle while being hugely outspent in baseball's toughest division. Getting rid of Akinori Iwamura looks like a wise move, and he managed to lock in several of his key players with one-year deals.
Bill Smith
Twins
Two words:
Jim Thome
. The signing of the veteran to a $1.5 million contract is looking like by far the best move of last winter. Acquisitions
Orlando Hudson
and
J.J. Hardy
also are working out nicely as the Twins head toward their second straight division title.
Walt Jocketty
Reds
Jocketty didn't have much budget wiggle room last winter, with a lot of money dedicated to a few players this year. The boldest move he made: Convincing ownership to spend $30 million on 22-year-old Cuban pitcher Aroldis Champan. The biggest move he didn't make: Using
Joey Votto
as a trade chip, as it was rumored he might.
--
David Andriesen

For more baseball news, rumors and analysis, follow @cbssportsmlb on Twitter or subscribe to the RSS feed .