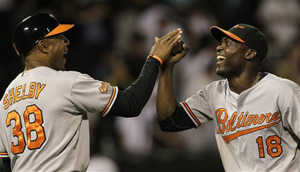 Felix Pie
was once a can't-miss prospect for the Chicago
Cubs
, but the club finally gave him on him and sent him packing to Baltimore prior to the 2009 season.
Pie won the left field job to start the season, even though hitting coach Terry Crowley thought he wasn't ready. He proved to be right as Pie looked lost at the plate and went about his job with an entitled attitude -- and eventually lost that starting gig, which didn't make things much better.
"When he first got here, you could just tell he had an attitude and a little chip on his shoulder and whatever the hell else was wrong with him," center fielder
Adam Jones
said of Pie
to the
Baltimore Sun
.
"I saw him in the bigs in Chicago, and he looked so uncomfortable, so tense," Jones added -- something that followed Pie to the
Orioles
.
"He was just this big ball of talent, and there was no character, no discipline, no hard work, no dedication," fellow outfielder
Luke Scott
added. "There was laziness and an attitude that somebody owes him something," Scott said. "What was going through my mind was this guy has this golden opportunity that people would kill for and he was [wasting it]."
And so Scott let Pie have it.
"I said to him: 'Do you really even want to be here? Because if you don't, then leave and stop taking somebody else's spot who is willing to work hard,'" Scott remembered. "I told him, 'There are people here that really want to see you succeed, but you have to work, you have to make the effort.'
"The whole time, his head was down. Finally, he just said, 'OK, I'll work.'"
It was, as Scott put it, a reality check. And Pie took it and ran with it.
"To Felix's credit, he's made that effort, he's put in the hard work," Scott says. You see him every day, he's in the cage, he's working on his swing, he's doing the drills that he's supposed to do. He's trying to make himself a better ballplayer."
Pie has since won his left-field job back and has posted a .274/.304/.416 line in 243 plate appearances, losing significant time to an injury that put him on the DL. While that line looks pedestrian, he is still just 25 and has all the talent in the world -- and a new best friend in Scott. The two converse constantly, with Scott and Pie partaking in pregame videos and with their own personal handshakes following home runs by one of the two.
"Every day when I come to the ballpark, I see him and he makes me laugh. I could be mad at something, but when I see him, I forget it," Pie said. "He talks to me every day. That's my friend."
Many other teammates, including Adam Jones, can see the transformation in Pie -- from a downcast, surly player to a fan favorite.
"It's good that Pie was mentally strong enough to take [Scott's lashing] for what it was," Jones noted. "And it's good on Luke for taking that initiative and taking on that responsibility. That's enabled Pie to be the guy you see."
Even though Pie hasn't impressed when you take out his early-season success and focus on just his post-DL numbers (204 PA, .263/.289/.379), Crowley feels Pie has become one of the more dangerous hitters in the AL East -- high praise given the quality of talent in the division. And Pie has his own praise of Crowley.
"Terry Crowley, this guy has meant so much to me. The Felix Pie that everybody sees right now, that is because this guy made that person. Every day, he makes my mind strong," Pie said. "He never left me alone. He talked every day with me, worked with me, taught me about how to play baseball. Now, you know what kind of player I am."
Pie may still have a ways to go before he truly breaks out as a dangerous hitter, but if and when he does, he'll have Scott and Crowley to thank.
--
Evan Brunell

For more baseball news, rumors and analysis, follow @cbssportsmlb on Twitter or subscribe to the RSS feed .