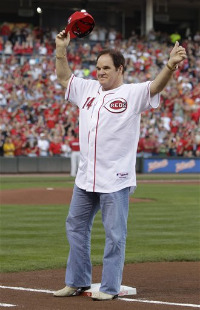 Finally allowed back on the field, Pete Rose was silent. The banished hit king didn't grant interviews before or after
his appearance
Saturday at a ceremony commemorating the 25th anniversary of his record hit. He didn't speak to the crowd during the appearance.
But afterward, Rose reportedly broke down with a lengthy, tearful apology for betting on baseball. At a roast of Rose at an Indiana casino, he sat among former teammates including Tony Perez and Ken Griffey Sr. and held nothing back. Some of his comments, as reported by the
Cincinnati Enquirer:
"I disrespected the game of baseball. When you do that, you disrespect your teammates, the game and your family. I guarantee everybody in this room, I will never disrespect you again."

"You can talk about hits and runs and championship games ... [But] I want my legacy to be [that of] somebody who came forward. If anybody has a problem here today, come forward. Don't hide it ... You can run, but you can't hide. If I can help a young kid to know what I went through, maybe I can prevent them from going through the same thing.

"I got suspended 21 years ago. For 10-12 years, I kept it inside ... That's changed. I'm a different guy ... I love the fans, I love the game of baseball, and I love Cincinnati baseball."
It was a remarkable moment for Rose, who only admitted to gambling to sell a book and makes a living now signing baseballs with "sorry I bet on baseball." When he has talked about it before, it has too-often felt like self-promotion, or a campaign to be allowed back in baseball, and not genuine contrition.
Now, it looks like maybe Rose really gets it.
"Nice, nice," said Perez afterward. "I was crying. He finally got it off his chest."
--
David Andriesen

For more baseball news, rumors and analysis, follow @cbssportsmlb on Twitter or subscribe to the RSS feed .