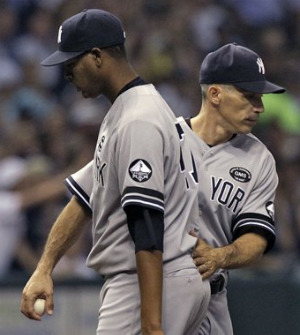 Joe Girardi has his philosophy when it comes to bullpen management and he's sticking to it.
Yes, that philosophy likely played a large role in the
Yankees
' loss to the
Rays
Monday night (which they avenged Tuesday), but Girardi would rather have his pitchers healthy than overstretched.
Girardi refused to bring in setupmen
Joba Chamberlain
and
David Robertson
and was holding
Mariano Rivera
back for a save opportunity. That caused
Kerry Wood
to pitch the ninth,
Chad Gaudin
to pitch a shaky 10th and
Sergio Mitre
to lose the game in the 11th.
"There are lot of times you see relievers that have a lot of appearances for a couple of years and they're not the same [in subsequent years]," Girardi
mentioned
to the
Tampa Tribune
. "You don't always want to be looking for bullpen arms. You've got guys that know how to do it; you want their careers to be long."
Yankee fans certainly know what Girardi is talking about, with
Scott Proctor
Exhibit A when it comes to burning out relievers. Proctor broke out in 2006 as a 29-year-old for the Yankees by appearing in 83 games covering 103 1/3 innings of a 3.52 ERA. The next season, he appeared in the same amount of games while hurling 86 1/3 innings of a 3.65 ERA while splitting time between the Yankees and
Dodgers
, to where he was traded. With the Yankees, he appeared in 52 games, the Dodgers had him appear in 31 games.
In 2008, Proctor's arm blew up from all the overwork that ex-manager Joe Torre (and incidentally, Torre skippered Proctor in 2008) had assigned him and missed most of 2008 and the 2009 season, only just returning to action for the
Braves
in 2010.
"A guy's health and his future in this organization are more important than one game," Girardi asserted. "A bullpen is a huge part of your club, and if you wear them out, you're in trouble."
The manager's philosophy is that no one pitches three days in a row, and those that pitch three of four days get two days off. It may be an aggressive schedule, but it's one Girardi firmly believes in.
"We want home-field advantage; that's important to us," he added. "But I sure wouldn't want to go into the playoffs with two of our right-handers on the DL. I mean, it's not what you want."
-- Evan Brunell
For more baseball news, rumors and analysis, follow @cbssportsmlb on Twitter or subscribe to the RSS feed .