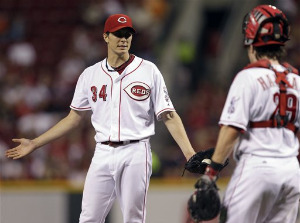 Hopefully for the
Reds
, a new hat will be all it takes to get
Homer Bailey
back on track.
The right-hander was removed from his start Wednesday after complaining of feeling dizzy. He said his first few warmup pitches didn't even reach the plate and he felt off all night. His fastball
averaged
under 90 mph, when it usually sits around 93. He was all over the place, walking five, striking out five and needing 83 pitches to get through three innings.
"I had a real big headache and stuff," Bailey
told reporters
after the game. "I thought maybe my hat was a little too tight or something. I went out there and was kind of dizzy and a little off balance and stuff. How many walks was it, 20? That hasn't been my game here of late. I was having trouble just staying balanced and stuff."
Bailey said he was checked out by the medical staff and was told to get some rest and see if he feels better.
Bailey is 3-3 with a 4.70 ERA in 15 starts this season for the Reds.
-- David Andriesen
For more baseball news, rumors and analysis, follow @cbssportsmlb on Twitter or subscribe to the RSS feed .