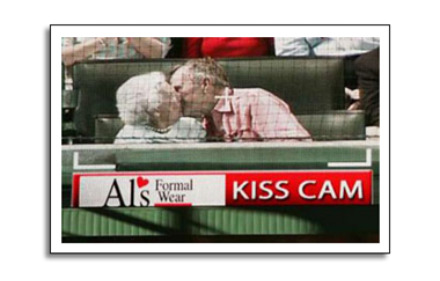 I admit it, I like the Kiss Cam.
The stadium staple, which finds unsuspecting couples in the stands and puts them on the scoreboard while the crowd pressures them to lock lips, rarely fails to deliver something entertaining. A mushy moment for a sheepish older couple (though I could do without watching former presidents make out), or an awkward and funny realization that the camera has landed on a mortified brother and sister.
But the Kiss Cam appears to be near its end. Because it's not used fairly, and after weighing the pros and cons of using it fairly, teams are likely to decide the whole thing isn't worth the hassle.
The latest incident to bring attention to the Kiss Cam came during an NFL game last weekend in St. Louis, when the camera showed two men sitting beside each other wearing jerseys of the opposing Arizona
Cardinals
. The juvenile message was clear -- "Get it? Arizona fans are
gay
! Har Har!" -- and homosexuals in the crowd took offense.
Harrison Roberts, the manager of a gay bar in St. Louis, told the
St. Louis Post-Dispatch
the incident was a topic of conversation among his customers the next day.
"They all had the same reaction. They were embarrassed, and felt a little degraded," Roberts said.
Roberts is leading an effort to pressure the baseball Cardinals to point the Kiss Cam at gay couples during Saturday's "Out at the Ballpark" event at Busch Stadium, put together by a local gay pride organization.
The Cardinals say they get tons of requests and can't make any promises about showing specific people or sections.
"Our stance is, we'll put you on the request list, no guarantees," said Tony Simokaitis, director of scoreboard operations. "We look for lively areas, full areas where people are in their seats, watching the video board, somewhat paying attention. We try to get as many people in as we can in the minute and a half between innings. There's not a lot of time to allow us to make calculated judgments in terms of demographics."
Cardinals spokesman Chris Tunno said the Kiss Cam always has the potential for awkwardness.
"Do you pick a guy and a girl? And what if you pick someone who is not together? And two guys and two girls? Same thing. You'd be in a total mess," he said.
Fair or not, a "total mess" is precisely what the Cardinals (and any other team) would find if they featured same-sex kissing on the scoreboard. They would get outrage from anti-gay fans, and from parents who will say they'd prefer to introduce the concept of homosexuality to young children on their own terms. A team could even bear responsibility if featuring kissing same-sex fans made those fans a target of intolerant people in the crowd.
It's not fair to exclude same-sex couples from the Kiss Cam, but it's problematic from a business and public-relations perspective to correct that unfairness. The path of least resistance is to cancel the cute, but by no means vital, bit of ballpark entertainment. Put the Kiss Cam on the endangered species list.
-- David Andriesen
For more baseball news, rumors and analysis, follow @cbssportsmlb on Twitter or subscribe to the RSS feed .