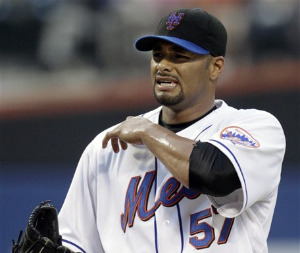 The popular adage "wait 'till next year" might not apply to the
Mets
anymore.
How does "wait 'till two years" sound?
"He could help them if they make the playoffs next year, but he probably won't be able to really help them get there."
That's Dr. Craig Levitz, the chairman and chief of orthopedic surgery at South Nassau Hospital in Long Island, via the New York Times talking about (gulp) Mets ace
Johan Santana
.
Santana underwent surgery Tuesday to repair a torn anterior capsule in his left shoulder, a procedure that will leave Santana unable to throw for a minimum of six months, which puts his return to throwing in late March. That obviously puts an Opening Day start out of the question.
Levitz, who trained under Tommy John surgery guru Dr. James Andrews, says that with Santana's surgery, the pitcher generally needs at least three months post-throwing to regain top form -- and in the small silver lining, Santana may be able to come back better than ever.
"It usually requires between 70 and 80 innings before a pitcher is back to normal," Levitz cautioned.
Santana would likely progress on a throwing timetable before embarking on an extended rehab start that could get him halfway to the 80-inning goal before being deemed ready for a return to the big-leagues. That more than likely would occur around the All-Star break.
The Mets have quite a bit of money tied up in aging and/or ineffective players for 2011 and have little room for error in a division boasting the
Braves
and
Phillies
along with up-and-coming
Marlins
and
Nationals
. Simply not having Santana for the first half may be enough to doom the Mess -- er, Mets.
Most tears in the anterior capsule can be done with arthroscopic surgery, a fairly straightforward procedure countless pitchers have undergone. However, Santana's location was so difficult to reach that surgeon Dr. David Altcheck, the Mets' team physician, had to make an incision to get to the tear. That could cause scar tissue, which could present a problem down the road, if not another surgery to clear up the scar tissue.
"Overall there is not a lot of damage to the shoulder with this injury," Levitz suggested. "Once they close the hole in the soft tissue, it should never be a problem again."
Santana's 2009 season was cut short by surgery as well, finishing with a 3.13 ERA in 25 starts. In 2010, he hurled 29 starts of a 2.98 ERA, but did not make the All-Star Game for just the second time in six years.
Santana is due $22.5 million in 2011 followed by $24 million in 2012 and $25.5 million in 2014. There is then a $25 million club option attached to a $5.5 million buyout.
Santana has certainly been the ace the Mets hoped for upon acquiring him, but he hasn't been to his established level of production with the
Twins
and will now essentially miss the entire 2011 season due to rehabilitation and resurrection.
New York has to be crossing its fingers for an unqualified, successful return from surgery to finish out the final two years of his guaranteed contract.
-- Evan Brunell
For more baseball news, rumors and analysis, follow @cbssportsmlb on Twitter or subscribe to the RSS feed .