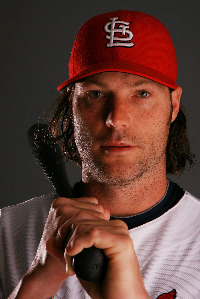 Cardinals
catcher
Jason LaRue
told the St. Louis Post-Dispatch
that the concussion he suffered at the feet of
Reds
pitcher
Johnny Cueto
will end his career.
"I'm done," LaRue told the
Post-Dispatch
's Joe Strauss. "It's a simple decision."
LaRue was kicked in the head during a fracas on Aug. 10. Cueto served a seven-game suspension for his actions. LaRue's cost was much higher.
LaRue estimates he's had "close to 20" concussions in his athletic career, dating back to high school football. He said riding in cars and watching TV have caused him "sensations that he likened to seasickness" as well as headaches and nausea. He said hasn't improved since the incident.
Apparently LaRue had contemplated legal action against Cueto, but has since decided against doing so.
"I was going to retire on my own terms," LaRue said. "It's unfortunate that the blow that decided it came from someone kicking me in the head with spikes. I wouldn't say I would change things if you could rewrite history. They say things happen for certain reasons. In this case, I couldn't tell you why. Does it suck that my career is over because Johnny Cueto started kicking me in the head? Yes, it sucks.
"I expected to walk away when I felt it was right. The bottom line: it's unfortunate."
LaRue will join his team in Pittsburgh on Monday to spend the final roadtrip with his teammates, as well as seeing a concussion specialist in Pittsburgh.
-- C. Trent Rosecrans
For more baseball news, rumors and analysis, follow @cbssportsmlb on Twitter or subscribe to the RSS feed .