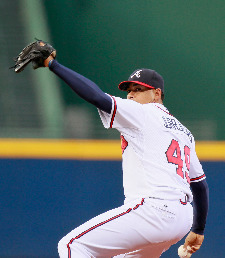 A kid gets called up to the big leagues, his parents get excited, let the local paper know, local reporter calls big-time prospect and writes a story.
It doesn't sound like much out of the ordinary -- except when that prospect tells the truth (something many front offices frown upon) and reveals an injury to one of the team's starters on the eve of its biggest series of the season.
That's pretty much what happened Sunday night as Indiana native Brandon Beachy
told the Kokomo Tribune
that he was in Philadelphia because of
Jair Jurrjens
' injured knee.
"It's exciting," Beachy told the paper in a phone interview from the team's hotel in Phialdelphia. "We're chasing Philadelphia, we're in Philadelphia. They have an incredible lineup. I'd love nothing more than to be thrown right into this mix and help contribute."
Before the Tribune story, the
Braves
hadn't said anything about Jurrjens' injury. Monday they're down-playing it.
"it's just a precaution in case," Braves general manager Frank Wren
told the Atlanta Journal-Constitution 's David O'Brien
. "J.J. felt better yesterday. Nothing series, just a tweak to the knee."
We'll see tonight.
Beachy was an emergency starter for
Derek Lowe
's start at Pittsburgh, but wasn't needed. Lowe, who had a bone chip in his elbow, started the game and won.
Beachy, 24, was 5-1 with a 1.75 ERA in 35 games (13 starts) in Triple-A and Double-A. He had 148 strikeouts and just 28 walks in 119 1/3 innings.
Lost in this may be Beachy's great story -- and why he had every right to be excited. He was signed as a non-drafted free agent two years ago out of Indiana Wesleyan. The baseball draft pretty much goes until people run out of names they can even make up, and this guy wasn't even drafted? Two years later he's on the brink of the big leagues -- that's certainly something to celebrate, even if I couldn't find a photo of the guy.
UPDATE:
The Braves have announced Beachy will start for the Braves against the
Phillies
tonight. Heck of a big-league debut -- face
Ryan Howard
,
Chase Utley
and
Jayson Werth
opposite
Cole Hamels
. Congrats and good luck.
-- C. Trent Rosecrans
For more baseball news, rumors and analysis, follow @cbssportsmlb on Twitter or subscribe to the RSS feed .