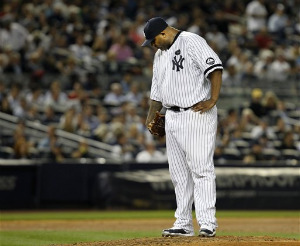 There has already been plenty of debate over the American League Cy Young Award race, and Thursday's results only made a murky picture murkier.
New York's C.C. Sabathia seemed to be holding a tenuous grasp on front-runner status, so what does he do? Of course, he goes out and gets blown up in a key game against the
Rays
, giving up seven earned runs and jacking up his ERA by a quarter of a point (from 3.05 to 3.26).
His counterpart in that game,
David Price
, is considered the solid-but-not-glamorous choice, and that's exactly the kind of game he pitched Thursday: six innings, eight hits, three runs, four walks, seven strikeouts. He got the win and looked good compared with Sabathia, but it wasn't exactly the commanding performance you'd hope to see from a Cy Young candidate in an important, stretch-run game.
And then there's Seattle's
Felix Hernandez
. All he did was pitch his sixth complete game (Sabathia and Price each have two), allowing two hits and one run. And he lost, 1-0, in yet another game in which his teammates might as well have been going to the plate wielding chopsticks. Seriously, watching Hernandez -- now 12-12 while leading the league in ERA, innings and strikeouts -- go out every five days has become like watching Charlie Brown line up to kick the football.
Expect to hear a lot more about the value of wins in evaluating a pitcher's season, but here's an angle I haven't seen elsewhere that would allow you to argue for Hernandez while
using
wins to bolster his case. The
Mariners
have only won 58 games this season, meaning Hernandez has been the winning pitcher in 21 percent of his team's victories. Sabathia has 22 percent of the
Yankees
' wins, and Price 20 percent of the Rays' wins. So Hernandez has been winning at a rate commensurate with his team's success, while leading the league in most major statistical categories. I don't have one of the 28 votes that will actually decide the Cy Young, but if I did, I'd have no qualms about listing Hernandez first on the ballot.
-- David Andriesen
For more baseball news, rumors and analysis, follow @cbssportsmlb on Twitter or subscribe to the RSS feed .