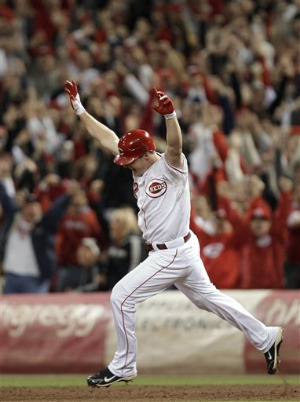 CINCINNATI -- I've done it, you've done it. Your team is tied in the ninth and a title is on the line -- everyone dreams of the home run.
Jay Bruce
didn't. Or at least he said he hadn't. Until he did it.
On the first pitch he saw from left-hander
Tim Byrdak
in the ninth inning of a tie game on Tuesday, Bruce hit a solo homer, giving the Cincinnati
Reds
a 3-2 victory, the National League Central title and their first playoff appearance since 1995.
"I've never even dreamt about this, this is unbelievable," Bruce said.
Bruce entered the at-bat 0 for 3 on the game and 1 for 20 against
Astros
starter
Wandy Rodriguez
. It was odd to even see Bruce's name in the lineup against Rodriguez, yet he said he and manager Dusty Baker had talked about it. Baker had faith in the young outfielder.
Bruce did have two hits in six career at-bats against Byrdak, including a homer, so it wasn't too much a stretch to leave him in. He's also improved his average to .260 against lefties this season coming into the game, bettering his career mark of .222.
"I've made big strides against left-handers this year, but I'm not done yet," Bruce said. "I've had ups and downs as a player and this isn't going to be what I am as a player. I expect much better out of myself, but this is only the beginning."
Bruce was called up two years ago to great expectations and has shown flashes of fulfilling his promise as the game's top prospect, but struggled with consistency. Even so, at the age of 23, he already has 65 career home runs -- and none bigger than his 65th.
Bruce knew it immediately -- reliever
Nick Masset
said he knew before that, calling the shot before the top of the ninth started. In the dugout, starter
Homer Bailey
said everyone knew the team would win Tuesday to clinch the division, it was just a matter of when. Bruce had barely dropped his bat when he raised his right arm -- "I had a pretty good feeling. Who knows what would have happened had it not gone out," Bruce said.
On deck,
Ramon Hernandez
was not so sure, he knew Bruce hit it hard, but he worried that he hit it to the exact wrong part of the park -- center field. "I was blowing it out," Hernandez said.
He hadn't need to waste the effort, the breath -- the ball bounced off the batter's eye and Bruce raced around the bases.
"I saw all my guys I'd been working so hard with every single day of the year. I wouldn't be here without my guys," Bruce said afterwards on the field after taking a victory lap with his teammates.
Bruce said he wasn't trying to end the game, he just wanted to hit the ball hard -- get on base and let someone knock him in. Instead, he did it all himself.
"It was unbelievable," Bruce said. "This is the perfect description.
Unbelievable
."
--
C. Trent Rosecrans

For more baseball news, rumors and analysis, follow @cbssportsmlb on Twitter or subscribe to the RSS feed .