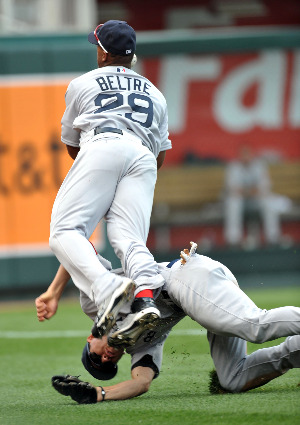 Two important parts of the
Red Sox
offense,
Dustin Pedroia
and
Jacoby Ellsbury
, are both waiting and waiting for their injuries to heal.
Pedroia was knocked out of a .288/.367/.493 line in 351 plate appearances when he went on the disabled list for the first time on June 25 with a fractured right foot, then went right back on August 19 after a two-game return that left him in agony.
What was wrong?
It turned out to be a simple answer -- his tendon was wrapped in such a way that it was "pulling the fracture apart," Pedroia told the Boston Globe . Surgery fixed the problem, with a screw inserted into the bone.
The 27-year-old is set to resume baseball duties after Thanksgiving, barring setbacks.
"A little later than I would like," he said. "But plenty of time to get ready for spring training."
Sometimes, plenty of time isn't a good thing.
"It'll drive me crazy," he said of missing the playoffs. "We should have been in the playoffs. Be being hurt, Kevin [Youkilis] being hurt, it was too much. We could have done a lot of damage, dude."
Meanwhile, Jacoby Ellsbury has yet to resume baseball duties as well, with no activities since re-injuring his ribs on August 13, crashing into Tommy Hanson. That's something ballplayers do all the time -- crash into each other -- but this crash had more effect on Ellsbury than most.
"The play in Texas, that's nothing to me," Ellsbury started off telling the Boston Herald . "[But] the bone was broke and we knew it wasn't fully healed, but we were under the impression that even if I took a little blow it would hold up."
It didn't, as Ellsbury had five fractures of the rib from a collision with Adrian Beltre (pictured) on April 11 -- and even now, Ellsbury can feel discomfort when taking deep breaths.
"I was playing with five broken ribs that I didn't know about. It just wasn't healed," Ellsbury said of why the crash with the Rangers' Tommy Hunter knocked him out for the season. "Once it's healed, I can do that 100 times in a row, and it's not going to do anything."
Ellsbury clashed with the Red Sox earlier in the season, contending team doctors had misdiagnosed an injury and underestimated the severity of the injury. This led to Ellsbury trying to return too soon, suffering setback after setback until his aborted return to the lineup.
"If we let it rest, take 6-8 weeks, then like Dr. Yocum said, I would've been back in 6-8 weeks without any issues," he added. Instead, Ellsbury finished the season with a .192/.241/.244 line in a scant 83 plate appearances, stealing seven bases after leading the league with 70 in 2009.
Ellsbury is now at six weeks of full rest and has a checkup with Dr. Lewis Yocum in November and expects to be able to begin his normal offseason workout program on time. The lefty certainly needs a strong return to dispel any questions about Ellsbury's commitment to the game, as unfair as the speculation may be.
Ellsbury was questioned through the media by Kevin Youkilis, who wondered why he was in Arizona rehabbing the injury and not with the team. Fans and writers alike also questioned Ellsbury's durability, causing his stock to plunge.

"When I think of Jacoby, I think of a guy who got hurt, went through some tough times along the way, tried his best to come back and wasn't able to because of the severity of the injuries and the repeated nature of the injuries," Epstein said, making it clear he doesn't believe there will be any hard feelings.
GM Theo Epstein for his part said that he wished he had gotten a scan of Ellsbury's ribs earlier, telling WEEI on Thursday via ESPN .
"It wouldn't have gotten him back any quicker, but it would have helped managing the perception of the injury," Epstein said. "Jacoby took some unwarranted heat from a lot of different sources because it wasn't clear right from the get-go that it the ribs were fractured."
With Pedroia, Ellsbury and Youkilis all set to be completely healthy for spring training, there's at least one silver lining to the Red Sox's lost season to injuries -- that no injuries should impact the next season.
-- Evan Brunell
For more baseball news, rumors and analysis, follow @cbssportsmlb on Twitter or subscribe to the RSS feed .