Chan Ho Park
's 124th career victory on Friday made him the winningest Asian-born pitcher in Major League history.
"It's very special," Park
told the Pittsburgh Tribune-Review 's Rob Biertempfel
. "It makes me think about 17 years ago when I first came here. I think about the people who brought me here and who helped me."
Park three three scoreless innings of relief for the
Pirates
against the
Marlins
on Friday, striking out six of the nine batters he faced.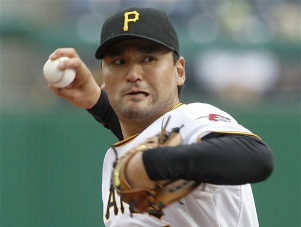 The Pirates are Park's eight team in the big leagues after being singed as a free agent by the
Dodgers
in 1994 when he was 21.
His first eight years were spent with the Dodgers, going 80-54 with a 3.80 ERA in his first stint with the team. He earned an All-Star nod in 2001. He signed a five-year, $65 million contract with the
Rangers
before the 2002 season.
In four seasons with the Rangers, Park underperformed, going 22-23 with a 5.79 ERA. After two years with the
Padres
, he signed with the
Mets
in 2007. There, he spent much of the season in the minor leagues, making one start for the Mets before he was designated for assignment in June. He signed a minor-league deal with the
Astros
, but never made it to Houston.
After re-signing with the Dodgers in 2008, Park reinvented himself as a reliever, where the shorter outings allowed him to use his mid-90s fastball more, instead of trying to conserve his energy during starts.
Last season he pitched well out of the bullpen for the
Phillies
and signed a one-year contract with the
Yankees
. After going 2-1 with a 5.60 ERA in 27 appearances for the Yankees, he was designated for assignment and claimed off waivers by the Pirates.
Another former Dodgers, Hideo Nomo, had held the record for most wins by an Asian-born pitcher. After Park's record-setting outing, teammates celebrated with a beer shower as he walked into the clubhouse.
"[John Russell] told me he'll give me the lineup card," Park said. "I've got the ball. Everything I used, even my socks and underwear, I'm going to keep. It's all very special."
I'd love to see how he's going to display that underwear in his house -- do you frame it? Or just put it in a drawer? If you frame it -- do you have it out, or under the pants in their natural environment?
-- C. Trent Rosecrans
For more baseball news, rumors and analysis, follow @cbssportsmlb on Twitter or subscribe to the RSS feed .