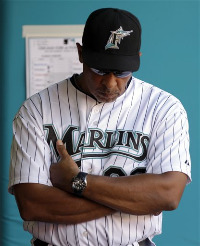 Edwin Rodriguez thinks his performance as interim manager of the
Marlins
should be good enough to get him the full-time gig.
"I would be very disappointed [not to get the job] because I think I presented my case," Rodriguez told the
Palm Beach Post
. "But then again, I don't know what they're looking for. Maybe there are more elements, more factors that they are taking into consideration."
Rodriguez was called up from Triple-A to take over after Fredi Gonzalez, the franchise's longest-serving manager, was fired June 23 because the front office felt the team should be better than its 34-36 record. Rodriguez has won at about the same clip (44-46), but while dealing with a lot of injuries, including the loss of ace
Josh Johnson
.
Rodriguez said he discussed his future with team president Larry Beinfest and general manager Mike Hill on Friday, but did not emerge with a clear idea of where he stands.
"They said they were pleased," Rodriguez said. "They said I'm in the mix. I'm a strong candidate. ... Right now, I don't know. They have that poker face. They said they're going to try to move fast, but they didn't indicate any time frame."
Owner Jeffrey Loria has said as recently as three weeks ago he is still interested in Bobby Valentine, though the
Post
is told Samson is strongly against that idea. Other possibilities include Tony Pena, Jim Fregosi and Ted Simmons.
The Marlins have been making a lot of noise about how their move to a new stadium in 2012 will vault them into a different level in the baseball stratosphere. My guess? They go for more of a "name" hire than Rodriguez. If he'd really turned the team around during his tenure and wowed Marlins fans, that would be one thing. But he looks more like a caretaker than the big splash Loria will want to make.
-- David Andriesen
For more baseball news, rumors and analysis, follow @cbssportsmlb on Twitter or subscribe to the RSS feed.