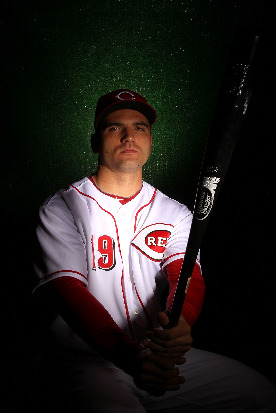 The
Reds
would certainly like to lock up probable-MVP
Joey Votto
to a long-term contract, but Votto may not be interested as he approaches his first year of aribtration eligibility.
The team hasn't approached Votto about an extension, he said. That's hardly surprising, because general manager Walt Jocketty traditionally doesn't like to talk contracts during the season.
But the
Cincinnati Enquirer 's John Fay asked Votto if he'd be interested in an extension
.
"I don't know," Votto said.
Votto's one of the most honest, straight-forward ballplayers I've ever dealt with. Most likely, he hasn't thought about it and wouldn't want to talk specifics without actually knowing the specifics. That's how Votto works -- he's never been a fan of hypotheticals.
Reality is he's eligible for arbitration at just the right time, as the 27-year old will likely be named the league's MVP after a .323/.423/.598 season with 37 homers and 112 RBI.
The largest-ever contract awarded to a first-year arbitration-eligible player was
Ryan Howard
, who received $10 million for the 2008 season. Howard was a year off his 2006 MVP and had hit .268/.392/.584 with 47 home runs and 136 RBI.
To that point of his career, Howard was hitting .291/.397/.610 with 129 home runs and 353 RBI. Votto is .314/.400/.557 with 90 home runs and 297 RBI in his career.
If I'm Votto, or his agent, I use Howard's $10 million as a starting point. Fay does as well, and also guesses the Reds offer $8 million. In the end, don't expect them to go to arbitration, that's not something the Reds enjoy and it would be precisely the type of spotlight the intensely private Votto would like to do without.
-- C. Trent Rosecrans
For more baseball news, rumors and analysis, follow @cbssportsmlb on Twitter or subscribe to the RSS feed .