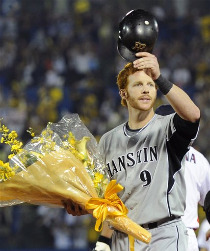 Matt Murton broke Ichiro's single-season hit mark in Japan, notching his 211th hit on Tuesday for the Hanshin
Tigers
-- then adding two more later in the 17-4 victory over the Yakult Swallows. But Ichiro apparently had never heard of Murton until the former Cub tied his record.
Yakyubaka.com translates Ichiro's comments
from
Nikkan Sports
:
"[Murton] did that in his first year in Japan. I've never heard of him. A player like that goes to Japan, has 210 hits so far in his first year, that's kind of shocking to me," Ichiro said. "So he's a player that never made it as a starting outfielder. But he did it in hs first year. That made me think that you can't take America too lightly."
The two played against each other just once, June 12, 2007 at Wrigley Field. Suzuki went 1 for 6 with a double, while Murton was 0 for 3 in a 5-3
Mariners
victory.
The one comment on the entry is from Jason Standridge , one of his teammates with the Tigers (or someone pretending to be him).
"What Matt has done this year for our team is nothing but amazing," Standridge wrote. "To also accomplish this feat in his first year in Japan, truly is really special."
Murton's record can be compared to Roger Maris breaking Babe Ruth's single-season home run record, both were aided by added games.
In 1994, Ichiro had 210 hits in a 130-game season. Japanese teams now play 144, and Murton's hit came in his 142nd game -- something Murton acknowledged in his remarks about the record.
"1994 and 2010 are two different seasons," Murton
told the Associated Press
. "He did it 130 games. it is what it is, it's a great honor. In terms of Ichiro, this doesn't change anything. He's one of the best players in baseball."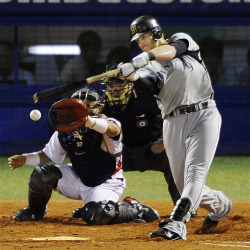 Murton was a first-round selection of the
Red Sox
out of Georgia Tech in 2003 and was part of the four-team trade that sent Nomar Garciaparra (and Murton) to the
Cubs
.
In four years with the Cubs, he actually played decently, hitting .294/.362/.436 with 28 home runs. Still, to listen to Cubs fans, he was as bust (seriously, read any Cubs blog or message board about Murton and they'll say the Japanese Leagues must be equal to the Little League World Series because Murton set a record there).
Murton was less successful in limited time with the
Rockies
(2008) and the A's (2009) before going to Japan for the 2010 season. He's flourished with the Tigers, hitting .351/.396/.502 in Japan with 17 homers.
What I find more interesting is that in the past, Japanese teams would be wary of letting foreign players break the records of Japanese-born players, but it doesn't seem like Murton dealt with that at all. That's a welcome progress in Japanese baseball.
There's an outside chance Murton won't hold the record long -- Yakult's Norichika Aoki has 205 hits with three games remaining, so if he had three hits a night and Murton goes hitless in his two remaining games, Aoki would win the hits title. The Swallows center fielder leads the league with a .358 average and is hitting .358/.435/.510 overall.
Meanwhile it's not as if Suzuki is crying over his lost record. He finished with his 10th consecutive season in the big leagues with at least 200 hits, making him the second player in history with 10 200-hit season along with Pete Rose.
-- C. Trent Rosecrans
For more baseball news, rumors and analysis, follow @cbssportsmlb on Twitter or subscribe to the RSS feed .