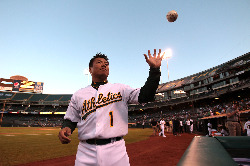 A's general manager Billy Beane says the Oakland Coliseum is keeping free agents away from signing with the team, but has hope that a new home is around the corner.
"I think we'll be playing in a new stadium at some point here soon," Beane said in the season-ending press conference on Monday,
according to the San Francisco Chronicle
. "And what's important when you enter a new stadium is preparing to go in with the best team possible."
The earliest the A's could get a new stadium is two years, so it wouldn't exactly help the A's until 2013 -- and that's being extremely optimistic.
Beane isn't a big fan of sharing the stadium, either, noting the playing surface is among the best in baseball. He tried to tell one free agent that, he said, but the player replied, "You're right … until August," referring to the start of the Raiders' season. "I didn't have an answer for him," Beane said.
Beane said he'd like to have his best team in place for a new stadium and build toward that season. It's worked for the
Twins
, who are in the playoffs in their first season at the new Target Field. And, while they have so many different factors and rules, the
Yankees
won the title in their new stadium last year. The
Cardinals
did the same in 2006.
Here's a look at how teams have done in their first year in new stadiums since 1989 (current stadium names used for simplicity):
2010 --
Target Field, Twins 94-68, division winner
2009 --
Yankee Stadium, Yankees 103-59, division winner, won World Series
Citi Field,
Mets
70-92, fourth in NL East
2008 --
Nationals
Park, Nationals 59-102, fifth in NL East
2006 --
Busch Stadium, Cardinals 83-78, division winner, won World Series
2004 --
Citizens Bank Park,
Phillies
86-76, second in NL East
Petco Park,
Padres
87-75, 3rd in NL West
2003 --
Great American Ball Park,
Reds
69-93, fifth in NL Central
2001 --
Miller Park,
Brewers
68-94, fourth in NL Central
PNC Park,
Pirates
62-100, sixth in NL Central
2000 --
AT&T Park,
Giants
97-65, win division, lost in LDS
Comerica Park,
Tigers
79-83, third in AL Central
Minute Maid Park,
Astros
72-90, fourth in NL Central
1999 --
Safeco Field,
Mariners
79-83, third in AL West
1998 --
Chase Field,
Diamondbacks
65-97, last in division (first year of franchise)
1996 --
Turner Field,
Braves
96-66, division winner, lost World Series
1995 --
Coors Field,
Rockies
77-67, wild card winner, lost in LDS
1994 --
Rangers
Ballpark in Arlington, Rangers 52-62, leading AL West at time of strike
Progressive Field,
Indians
66-47, second in AL Central at time of strike
1992 --
Oriole Park at Camden Yards,
Orioles
89-73, third in AL East
1991 --
U.S Cellular Field,
White Sox
87-75, second in AL West
1989 --
Rogers Centre,
Blue Jays
89-73, won division, lost in ALCS
The list doesn't include expansion teams that moved into existing structures, i.e. the
Marlins
,
Rays
and Rockies.
-- C. Trent Rosecrans
For more baseball news, rumors and analysis, follow @cbssportsmlb on Twitter or subscribe to the RSS feed .